Inline Heater suits high-purity solvent heating applications.
Press Release Summary: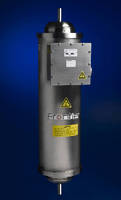 Constructed of electropolished 316L stainless steel with PFA and PTFE wetted surfaces, Frontier™ Series can be used in single pass or recirculating applications for safely heating chemistries such as EKC265, EKC8730, ST28, ST26, ACT690C, and IPA. Unit includes ½, ¾, and 1 in. tube stub fluid connections and accommodates flow rates up to 75 lpm at pressure drop less than 5 psi. Operating from 120–600 V with 3, 6, 9, 12, 18, 24, or 36 kW power, heater features max temperature of 356°F.
---
Original Press Release:

Process Technology Introduces the Fronter(TM) High Wattage Inline Heater



MENTOR, OHIO – Process Technology, a wet process heating and cooling equipment manufacturer, introduces its new Frontier™ Series electropolished stainless steel inline fluid heater for high purity solvent heating applications.



Based on the increasing market demand for high flow and low pressure drop applications, Process Technology developed its next generation Frontier heater to meet broader and emerging customer requirements.  Research and development efforts focused on using thermo/hydrodynamic computer modeling to optimize the patented design.  Enhanced features include a non-casted structure, versatile flow rates, an expanded wattage range, and high-quality electropolished surfaces resulting in superior cleanliness.



The Frontier can be used in single pass or recirculating applications for safely heating chemistries such as: EKC265, EKC8730, EKC270, ST28, ST26, ACT690C, MEK, NMP and IPA.  Its construction consists of electropolished 316L stainless steel, PFA and PTFE wetted surfaces, and a fluid pathway through a patented circular tubing array.  Fluid connections available include ½-inch (12mm), ¾-inch (19mm), 1-inch (25mm) tube stubs (or custom connections) and can accommodate flow rates up to 75 lpm at a pressure drop less than 5 psi.  The heater's temperature range is up to 180°C (356°F), and pressure range is up to 100 PSIG (689 kPa).  Available heater voltages include 120-600V, single or three phase, and standard wattages are 3, 6, 9, 12, 18, 24, and 36 kW. 



The Frontier's safety features include grounded metal construction, multiple element thermocouples, insulated housing, and a hermetically sealed high limit thermal cutoff device (TCO). It is certified to UL 823, UL 499, CSA 22.2, and CE; rated for Class I, Division 2 hazardous locations.



According to Joel Rozga, Director of Engineering for Process Technology, "The innovative new Frontier inline solvent heater heats many process solvents through indirect contact instead of direct immersion.  The Frontier delivers exceptional temperature stability/performance over a wide range of flow and temperature requirements with unparalleled safety."



Process Technology, established in 1978, serves industries that include Semiconductor, FPD, MEMS, Nanotechnology, Photovoltaic (solar cell), LCD, Biomedical and Pharmaceutical.  Process Technology's product offering includes LUFRAN™ fluoropolymer DI water heaters, quartz DI water heaters, fluoropolymer & quartz inline chemical heaters, electric immersion heaters, heat exchangers, high temperature filter chambers, solvent heaters, and nitrogen heaters. Semi S2/S3 and CE compliant; ETL/UL and NRTL certified.  The company is certified to ISO 9001:2008, including design.



For further information, please contact Christine Venaleck, Director of Advertising, at 440-974-1300 or via email at cvenaleck@process-technology.com.



Christine L. Venaleck

Director of Advertising

Process Technology

7010 Lindsay Drive

Mentor, Ohio 44060 • USA

Phone: 440-974-1300

Fax: 440-974-9561

www.processtechnology.com

More from Portable Tools