Inkcups' Helix Hi-Fi Wins SGIA Product Of The Year Award For Direct-To-Shape Printers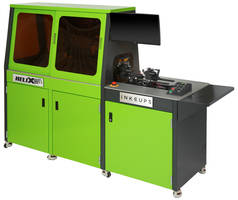 Danvers, Mass. – September 17, 2019 – Global printing industry leader Inkcups is pleased to announce that the company's photorealistic digital printer, Helix® Hi-Fi, was named 2019 Product of the Year in the Direct-to-Shape Printers category by the Specialty Graphic Imaging Association (SGIA).
The Helix® Hi-Fi is the industry's first true photorealistic digital cylinder printing machine. An evolution of Inkcups' flagship Helix® rotary digital printer, the Hi-Fi produces high-resolution images with photorealistic skin-tone matching thanks to the addition of two-color pockets: light cyan and light magenta. The machine utilizes advanced smoothing technology which removes any potential graininess from an original image for better print quality output, a key feature for reproducing facial images. Ideal for promotional and retail markets, the Helix® Hi-Fi prints multi-color graphics on straight-walled cylinders, tapers, and objects with limited wall curvatures. Typical applications include stainless steel vessels, glass candle holders, mixing glasses, barware and more.
"We are honored and gratified to receive this key industry award," said Ben Adner, CEO of Inkcups. "We released the Hi-Fi with the intent that it would improve printing quality and capabilities for the personalization and promotional markets. We're always striving to offer the most capable printing systems in the business and this recognition underscores our efforts and achievements."
Open to all PRINTING United exhibitors, the Product of the Year reviews and recognizes the top products that are, or will be, available for sale in 2019. All entries will be displayed in the Awards Gallery at the inaugural PRINTING United show on October 23 – 25 in Dallas, Texas. A panel of judges from across the printing industry evaluated more than 200 entries in a range of categories spanning analog, digital, output and non-output technologies.
"The Product of the Year competition represents the best of the best among commercial hardware, software, consumables, and industrial and screen equipment," said Ray Weiss, Director of Digital Print Programs, SGIA.
Inkcups will receive their Product of the Year recognition on October 22, 2019, at PRINTING United. Inkcups will display a range of digital, pad printing and laser plate-making machines as well as a few new machines at booth #2011.
About Inkcups
Inkcups is a leading supplier and manufacturer of digital inkjet equipment, pad printing equipment, laser plate-makers and corresponding supplies, with direct sales, technical support and warehouse locations in the USA, Canada, Mexico, Germany, Hong Kong and other global locations. Inkcups manufactures high-quality industrial machines for a wide range of industries including apparel, drinkware, promotional, electronic, medical, sporting goods and automotive markets. The company's global network comprises 24 technical service, demonstration, warehouse and platemaking service facilities; 19 distribution centers; and 32 offices. For more information, visit www.inkcups.com.
About PRINTING United
At PRINTING United in Dallas, an expansive and comprehensive display of printing technologies and supplies, education, programming, and services will be showcased. The show has garnered widespread support from the industry and is now sold out. For more information about the trade show, visit printingunited.com.
About SGIA
SGIA is the premier printing and graphic arts trade organization that provides members with cutting edge resources, tools and education to promote growth and convergence into new market segments. SGIA members have unparalleled access to current industry information, trends and events. SGIA-produced events include, but are not limited to, PRINTING United (Dallas; October 23 – 25, 2019) and Graphics of the Americas (Miami; February 27 – 29, 2020). For more information, visit SGIA.org.
Related