Injection Systems help mitigate multi-pollutant emissions.
Press Release Summary: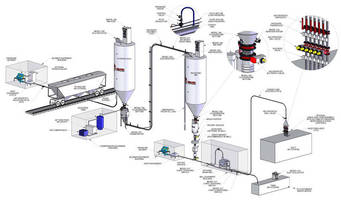 Using dilute-phase positive-pressure pneumatic conveying technology, Sorb-N-Ject(TM) Technology injection systems continuously transfer dry bulk sorbent material from storage silos to injection ports on boiler flue gas ducts, which reacts with multi-pollutants in flue gas to reduce emissions. Fluidizing bin bottom installed on each silo prevents stored material from rat holing, bridging, or arching. System includes loss-in-weight feeder hopper with reverse jet pulse dust filter system.
---
Original Press Release:

Nol-Tec Systems, Inc. Introduces Sorb-N-Ject(TM) Technology



Lino Lakes, MN - May, 2009 - As pollution concerns lead to increasingly tighter regulatory standards and the need for more stringent controls at coal-fired power plants, Nol-Tec provides full Dry Sorbent Injection Systems for mitigating multi-pollutant emissions under the trademark Sorb-N-Ject(TM) Technology. Dilute-phase positive-pressure pneumatic conveying technology is used to continuously transfer dry bulk sorbent material from storage silos to injection ports on boiler flue gas ducts. The injected sorbent reacts with multi-pollutants in flue gas to reduce emissions.

A fluidizing bin bottom is installed on each silo to prevent stored material from rat holing, bridging or arching. Each loss-in-weight feeder hopper is easy to calibrate and equipped with its own reverse jet pulse dust filter system, which traps the dust generated during feeder refill and returns it to the process. Each conveying line is equipped with a dedicated positive displacement blower connected to a common air dryer to ensure the sorbent material remains dry and does not plug the line. To facilitate maintenance, flow meters and variable frequency drive controls can be added to the blower packages. Conveying line insulation and blowout ports are also available. Injection lances are automatically purged of any blockages.

For more information, e-mail sales@nol-tec.com or call 651-780-8600.

Nancy Imbrone
Nol-Tec Systems, Inc.
425 Apollo Drive
Lino Lakes, MN 55014
(651) 780-8600 ext. 235
(651) 780-4400 fax
NancyImbrone@nol-tec.com
http://www.nol-tec.com

More from Test & Measurement