Injection Molding Machines offer optional robot.
Press Release Summary: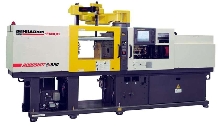 Five-axis SR Mate 100iB is available as integrated option on Roboshot SiB 55- and 110-ton machines. Part removal stroke of 0.5 sec/27.5 in. matches with Roboshot's clamp cycle of 1.6 sec and injection acceleration of 0-300 mm/sec in 27 ms. Robot offers payload capacity of 11 lb with extracting stroke of 20.4 in. for parts and 14.6 in. for runners, and lifting stroke of 27.5 in. for parts and runners. Anti-collision protection helps eliminate end-of-arm or mold damage.
---
Original Press Release:

New SR Mate 100iB Robot Brings "Ready to Run" Efficiency to Roboshot Injection Machine for Medical and Packaging Components


High-speed, ultra-compact SR Mate 100iB is integrated with molding machine control, easy-to-teach. Artificial-intelligence anti-collision protection virtually eliminates end-of-arm or mold damage.

June 2005 - Injection molding machines are taking a big step toward becoming injection molding robots with Milacron's introduction of the Roboshot integrated molding machine/robot system. Already the quickest-accelerating electric injection molding machine, the Roboshot SiB now has a robot to match its performance with the new SR Mate 100iB, available as a fully integrated, ready-to-run option on 55- and 110-ton machine models. The system requires no installation time and offers a total height of just 2470mm (97.25") when mounted on the Roboshot 110, making it ideal for low-ceiling buildings and clean rooms. Its "cat-quick" part removal stroke of just 0.5 sec/700mm (27.5") (dry cycle) is an excellent high-speed performance match with the Roboshot's fast clamp cycle of 1.6 sec. and injection acceleration of 0-to-300mm/sec in just 27ms. The system is ideal for precision, thin-wall medical and cosmetic parts, as well as packaging.

At the Plastec East show, June 13-15, 2005 in New York City, a 110-ton Roboshot will show off the integrated SR Mate 100iB in a molding cell producing a precision Acetal gear in a four-cavity mold. The integrated SR Mate 100iB is only available on new 55- and 110-ton Roboshot machines, and cannot be retrofitted on existing machines.

The new 5-axis SR Mate robot is designed as a totally integrated complement to the Roboshot, offering plug-and-play convenience so complete it includes storage of the robot's program with the mold file on the molding machine. Bringing exceptional flexibility, safety and ease of use to molding automation, the SR Mate can be mounted in two different locations that provide traverse of 1200 or 1700mm (47.24" or 66.9"). It can fold itself completely within the footprint of the injection machine for protection during relocation or shipping, or it can move clear of the clamp area for safe, full-access mold change. To simplify part sampling quality checks, the robot can deliver parts to the operator side, as well as the non-operator side.

"The design of this robotic molding system is exceptional in convenience, integration, and performance," said Milacron Marketing Director Bob Strickley. "This is the next step in machinery automation, yet another way to stay competitive with offshore manufacturers."

Designed for inexperienced operators, the SR Mate combines simple "walk-through" teaching with sophisticated, but easy to use, Artificial Intelligence (AI) for collision protection. The AI Collision Detection system is so smart it can stop the robot instantly during teaching or production to minimize damage to the mold, robot or end-of-arm tooling, without using any other protection devices.

The SR Mate 100iB has a payload capacity of 5 kg (11 lb) with an extracting stroke of 518mm (20.4") for parts and 371mm (14.6") for runners, and a lifting stroke of 700mm (27.5") for both parts and runners.

Roboshot machine sets the standard in medical and package molding
The all-electric Roboshot injection molding machine offers 100% digital position repeatability of ±0.0004" and documented energy savings up to 85%, while eliminating all hydraulics and oil lubrication for exceptionally clean operation. The Roboshot SiB machine series is ideal for molding thermoset plastics, expensive engineered materials, liquid silicone rubber, as well as conventional thermoplastics. The SiB series combines new servo technology, 10X faster control updates, a reduced-inertia injection unit and new Artificial Intelligence (AI) features for fast, clean, consistent performance. Cycle times can be reduced due to overlapped functions and AI control for mold/ejector protection and metering/injection, making the SiB Series ideal for high-production, "lights out" molding of medical devices and packaging products. Attention to molding detail and overall profitability was critical on all machine updates, according to Kent Royer, Roboshot product manager.

The 55-ton Roboshot produces a maximum shot weight of 18 - 55 g (0.63 - 1.95 oz) at pressure of 2550 - 1667 bar (36,972 - 24,174 psi), depending on the barrel/screw combination specified. The 110-ton machine produces a maximum shot weight of 27 - 171 g (0.95 - 6.02 oz) at pressure of 2452 - 1471 bar (35,550 - 21,330 psi).

Wide range of options
SiB machines are designed for simple interface to Fanuc's SR Mate robots for part removal, insert molding, gate-cutting and palletizing. Other options include air eject and productivity-enhancing pre-injection. Pre-injection (injection before full clamp tonnage is achieved) helps eliminate gas burn and short shots through improved mold venting. It also delivers a uniform "coining" pressure to the part, improving surface consistency and helping minimize warp/sink marks.

To see the full range of Roboshot and other Milacron plastics processing technologies, visit plastics.milacron.com on the web.

Sales inquiries from the NAFTA region should be directed to:
English
Sherry Kinzie
Milacron Marketing Company
4165 Halfacre Rd.
Batavia, OH 45103
Tel: 513.536.2370
Fax: 513.536.2441
sherry_kinzie@milacron.com

More from Material Processing