Injection Molding Machine has artificial intelligence features.
Press Release Summary: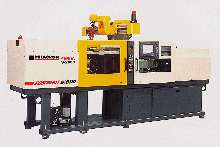 All electric Si-B combines Fanuc's Alpha series servo motors and drives; reduced-inertia injection unit; and AI Ejector Protection, Mold Protection, and metering function for robotic consistency. Available in 4 sizes with 55-330 ton clamp force, product offers 0-300 mm/s injection acceleration times of 27 ms. Unit is suitable for molding thin-wall and precision parts. It is equipped with Windows CE-based control with 12.1 in. LCD display and touch-screen display.
---
Original Press Release:
New Roboshot Si-B Machines Introduce Revolutionary Artificial Intelligence Features, Fastest Electric Injection Acceleration on the market and 0.1 msec. Control Precision - at Reduced Price
January 2003 - If the new Milacron/Fanuc Roboshot Si-B injection molding machine had wings, it could "fly." The all-electric Si-B series combines new servo technology, 10X faster control updates, a reduced-inertia injection unit and new AI for even greater "robotic" consistency and easier operation - all at a reduced price. According to Milacron, the new Si-B machine - available in four sizes from 55 to 330-ton clamp force - is in a class by itself. With 0 to 300 mm/s injection acceleration times of 27ms, the Si-B series' performance is well suited for molding thin-wall and precision parts, such as electronic connectors and cell-phone components. Reduced cycle time - thanks to overlapped functions and artificial intelligence (AI) control for mold/ejector protection and metering/injection - make the Si-B ideal for high-production, "lights out" molding of medical devices, gears and packaging products. New Motors, Faster Control Give More Speed and Precision Si-B machines use Fanuc's newest Alpha series servo motors and drives, designed specifically for higher duty cycles. Alpha series motors have reduced inertia and faster response than previous generations. Matched with a 10X faster control (0.1 msec. updates) and noise-immune fiber-optic communications, the drive system allows Si-B machines to offer the fastest acceleration of any all-electric IMM on the market - but with a new level of precision that reduces injection-pressure transfer variations by 50% or more. A new Windows CE-based control offers a 12.1-inch LCD display with larger characters and a 4X faster touch-screen display. In response to customer requests for comprehensive, yet easy to use operation, a new machine operator interface layout provides multiple ways to "jump" to any screen, and a "custom menu" feature allows operators to create a personalized menu. Other new standard features include a "last change" log. Optional password security and access level control allow tracking changes made by individual users. The control includes Ethernet, USB and RS232C ports. A Flash Memory Card writer/reader allows continuous download of process data in text file format for analysis using PC applications, such as Microsoft Excel and other spreadsheet or database applications. Screen images can be either downloaded as JPEG files to the Flash Memory card or printed in color using the built-in USB port. High-performance injection unit Roboshot Si-B machines feature a new injection unit design that is more rigid and robust, with up to 50% less inertia. A new temperature-control board improves molding stability by holding variation to ±0.2°C or less, and a synchronized barrel/nozzle heat-up function offers faster heat-up times, while minimizing black speck problems caused by overheating. Additionally, Milacron can provide its WEARSTAR or KLEARSTAR injection packages for high wear materials and optical products, along with other application specific screws and barrels to further enhance performance. New Artificial Intelligence (AI) capabilities Si-B models add significant new AI features enhancing Roboshot's operational saving capabilities. New AI Ejector protection and an enhanced AI Mold Protection have been developed to reduce tool damage costs. Roboshot's patented AI mold protection has been refined to a new level by dividing the mold closing-force profile into three zones, allowing separate high-force limits to be set for each zone. This enables tighter mold protection in a zone of normally low closing force, while increasing the alarm limits where the clamp must overcome sticking cores or pins, thereby minimizing false alarms. AI ejector protection functions in a similar way, learning the ideal ejector-force profile by monitoring the load on the eject servo motor. A high-load "band" is set around this profile, and if ejector force exceeds this safe range, the cycle stops instantly. The system is so sensitive it can be used to pass/fail part quality by detecting over-packing and flash conditions. The new AI metering function "learns" an ideal recovery cycle, and then modulates screw RPM to achieve repeatability of ±0.2 sec or less on every cycle. Used in conjunction with AI pressure profile control, part weight variance is nearly eliminated, even when using regrind blends. Both standard AI pressure profile and metering can be tuned by the operator, and profiles can be transferred from one Roboshot machine to another to duplicate molding performance. Wide range of options Si-B machines are designed for simple interface to Fanuc's SR Mate robots for part removal, insert molding, gate-cutting and palletizing. Other options include air eject and productivity-enhancing pre-injection. Pre-injection (injection before full clamp tonnage is achieved) helps eliminate gas burn and short shots through improved mold venting. It also delivers a uniform "coining" pressure to the part, improving surface consistency and helping minimize warp/sink marks. To see the full range of Roboshot and other Milacron plastics processing technologies, visit plastics.milacron.com on the web. In the U.S., Mexico, Puerto Rico, and Canada direct inquiries to: Greg Fischer, Marketing Support Services, Inc., 3241 Omni Dr., Cincinnati, OH 45245. Phone: 1-888-MILACRON (toll free) Fax: 1-800-282-8082. In Brasil, direct inquiries to: Hugo Korkes, Milacron Equipamentos Plasticos LTDA, Estrada dos Casa, 3883-B. Alavarnega, Sao Bernardo do Campo, SP - Brasil. Phone: 011-55-4358-4299. Fax: 011-55-4358-4443. In Central and South America, direct inquiries to: Michael Ferlic, Milacron Marketing Company, 7752 NW 74th Ave., Miami, FL 33166. Phone: 305-887-6920, extension 131. Fax: 305-883-8254.
More from Controls & Controllers