Injection Molding Compounds target automotive window seals.
Press Release Summary: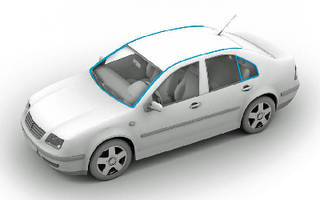 Designed for window encapsulation and appearance parts such as trim seals, Sarlink® 17100, ME-2500, and ME-2600 Series Compounds permit weight savings in comparison with EPDM and PVC. Sarlink 17100 thermoplastic vulcanizate compounds maintain seal integrity at high temperatures, resist greases and solvents, and yield low-gloss or matte finish. Readily colored, Sarlink ME-2500 and ME-2600 styrene block copolymer compounds exhibit high UV stability and offer adjustable gloss level.
---
Original Press Release:

At Fakuma: Teknor Apex Introduces TPV and TPE-S Compounds for Improved Automotive Window Encapsulation and Exterior Parts



Three New Sarlink® Series Provide Excellent Processability, UV Stability, and Appearance while Permitting Weight Savings in Comparison with EPDM and PVC



GELEEN, NETHERLANDS, – Drawing on two different thermoplastic elastomer (TPE) chemistries, Teknor Apex Company has developed new alternatives for molders of automotive window seals and exterior parts, providing improved processing and performance properties in comparison with currently used materials, the company announced today. Teknor Apex will introduce the compounds at Fakuma 2014 (Hall B5, Stand 5315).



Sarlink® 17100, ME-2500, and ME-2600 Series injection molding compounds are designed for window encapsulation and appearance parts such as screen finishers and trim seals. They provide enhanced processability for good surface quality and excellent UV stability. Their lower densities relative to EPDM and PVC make possible weight savings of up to 20 and 25%, respectively. Teknor Apex can produce all three series in Europe, North America, and Asia.



The new compounds are based on distinctly different polymer chemistries:



Sarlink 17100 Series thermoplastics vulcanizate (TPV) compounds are improved, lower-viscosity formulations derived from the widely used Sarlink 4700 Series. Their high flow and low sensitivity to process variations make possible excellent surface properties and precise replication of complex shapes. As TPVs, Sarlink 17100 Series compounds maintain seal integrity at high temperatures, have high resistance to greases and solvents, and yield a low-gloss or matte finish.



Sarlink ME-2500 and ME-2600 Series styrene block copolymer (TPE-S) compounds exhibit processing and end-use properties superior to those of standard TPE-S materials, providing higher flow, enhanced surfaces, and greater UV stability. While the ME-2500 Series compounds have densities comparable to EPDM, those in the ME-2600 Series are particularly low in density—0.93 g/cc, as against minimums of 1.1 for EPDM and 1.2 for PVC. The new TPE-S compounds are very easy to process, with a broad processing window; are readily colored; and exhibit high levels of UV stability. Their gloss level can be adjusted to meet customer requirements.



"Because Teknor Apex draws from an exceptionally broad range of TPE chemistries, our company takes a 'polymer-neutral' approach to supplying automotive customers, providing them with multiple TPE alternatives so that they can select precisely the best compound for their application," said Ger Vroomen, senior European automotive market manager. "Besides our TPV and TPE-S products, in fact, we also manufacture PVC compounds for automotive window seal and exterior trim applications. For all these products, we are prepared to develop custom formulations, provide support in application development, and supply precisely the same compound grades no matter where in the world the customer operates its plants."        



About Teknor Apex. Teknor Apex Company, a privately held firm founded in 1924, is one of the world's leading custom compounders of plastics.  Teknor Apex produces flexible and rigid vinyl, thermoplastic elastomers, nylons, toll and specialty compounds, color masterbatches, specialty chemicals, bioplastics and hoses. The company is headquartered in Pawtucket, RI, U.S.A. and operates thirteen facilities worldwide in the United States, the Netherlands, the United Kingdom, China and Singapore. To learn more visit: www.teknorapex.com.



The Thermoplastic Elastomer Division of Teknor Apex Company offers the broadest portfolio of TPE compounds available from a single source. The division compounds TPEs at eight locations in the U.S., Europe, and Asia under the brands: Elexar® (electrical and electronics applications), Medalist® (medical devices), Monprene® (consumer and industrial products), and Sarlink® (transportation).



READER INQUIRY INFORMATION: 

Americas:

Teknor Apex

505 Central Avenue

Pawtucket, RI  02861 U.S.A 

Tel:1-401-725-8000

Tel. from U.S. only: 1-866-GET-TPEs (1-866-438-8737) 

Fax: 1-401-728-5680

E-mail: tpe@teknorapex.com  



Europe:

Teknor Apex UK, Ltd.

Tat Bank Road

Oldbury, West Midlands, England B69 4NH

Tel: 44-121-665-2100

Email: eutpe@teknorapex.com  



Asia:

Teknor Apex Asia Pacific

41 Shipyard Road

Singapore 628134 

Tel: 65-6265-2544 

Fax: 65-6265-1821 

Email: apactpe@teknorapex.com

More from Sensors, Monitors & Transducers