Ingenious Multiple-Filter Manifold Slashes Dewatering Time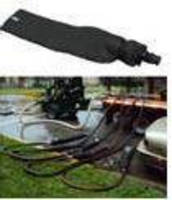 Necessity is the mother of invention, according to proverb. For one Illinois environmental contractor, the need to cost-effectively dewater manholes led to a unique design using multiple C.I.Agent EVAC Filtration Systems from C.I.Agent Solutions. Thanks to this ingenious device, dewatering jobs that once took hours are now accomplished in a fraction of the time, while capturing hydrocarbons in the water.



Credit for such innovative use of C.I.Agent Solutions product goes to an employee at the Elk Grove Village, Illinois, branch of environmental contractor PSC. The company was hired by a local electrical utility to dewater vaults and manholes in Chicago and its suburbs. Such water discharge operations require periodic draining, both to ensure equipment installers of safe working conditions and to protect the environment.



Rather than resort to vacuum trucks and the expensive related water processing fees, PSC devised a highly efficient pump and filtration configuration. A 2,500+ GPM centrifugal pump connects to a multi-port manifold, to which up to seven C.I.Agent EVAC Filtration Systems attach. Quickly removing and processing large volumes of contaminated water enabled PSC to complete jobs efficiently and cost-effectively.



Each 12" x 57" C.I.Agent EVAC filter captures suspended solids and light sheen, and polishes the water. Within each filter's non-woven geotextile is C.I.Agent, an environmentally-friendly and proprietary blend -more- -2- of seven polymers that encapsulates and solidifies harmful hydrocarbons. They're transformed into a non-toxic, non-leaching, rubber-like mass ready for safe disposal.



Since each manifold port can be shut off independently, a saturated EVAC filter can be changed while others continue filtering. PSC realized significant savings with the manifold invention. From initial set-up to tear-down, even the power utility's largest manholes and vaults were cleared of contaminated water within 30 minutes.



PSC now uses the multiple-filter technique with many of its customers, said Jim Chaggaris, president of PowerOne of St. Charles, Illinois. A sales company serving utilities, industrial and commercial markets in a four-state area, PowerOne offers the full line of hydrocarbon-filtering C.I.Agent Solutions products.



Said Chaggaris of PSC, "They've taken C.I.Agent Solutions' technology and adapted it to better serve the needs of their customers. This custom method reduces their dewatering times by up to 75%, and gives them a competitive edge."



Every C.I.Agent EVAC Filtration System comes with a 2" male Camlock quick-connect fitting and is packaged in a UN-certified liquid-tight container. The reusable filtration bag's outer skin contains a hydrocarbon detection strip, so users can tell when filtering nears maximum hydrocarbon retention levels. A C.I.Agent EVAC Filtration System can also efficiently capture contaminants when dewatering elevator shafts or retention and secondary containment vessels, or for processing oil-water separator out-fall.



Contact C.I.Agent Solutions, 11760 Commonwealth Dr, Louisville, KY 40299. Toll free: 866-242-4368; Fax 502-267-0181. www.ciagent.com.

More from Material Handling & Storage