InGaAs Photodiodes offer speeds to 155 and 622 Mbps.
Press Release Summary: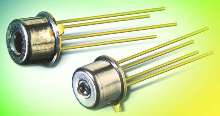 FCI-InGaAs-XXX series photodiodes with TIAs, suited for datacom and telecom applications, are offered with active area sizes of 55, 70, and 120 mm. With spectral range from 900-1,700 nm, units are packaged in 4 lead, isolated TO-46 cans with AR coated flat windows or micro lenses. They are offered with FC, SC, ST and SMA receptacles and exhibit responsivity from 1,100-1,620 nm. They are suited for high-bit rate receivers in communication systems.
---
Original Press Release:

OSI Fibercomm Announces High Speed InGaAs Photodiodes


Hawthorne, CA - October 3, 2003 - OSI Fibercomm, a subsidiary of OSI Systems (Nasdaq: OSIS), introduces the new 155 Mbps / 622 Mbps InGaAs photodiodes with TIAs for datacom and telecom applications. The FCI-InGaAs-XXX series has active area sizes of 55mm, 70mm, and 120mm. These sensors offer high responsivity, high speed and low noise with a spectral range from 900 nm to 1700 nm and are suitable for Single / Multi-mode fiber optic receivers, Gigabit Ethernet / Fibre Channel, SONET / SDH, ATM, optical taps and other high speed optical communications needs.

OSI Fibercomm's new photodiodes exhibit high responsivity from 1100nm to 1620nm, making them ideal for high-bit rate receivers used in LAN, MAN, WAN and other high-speed communication systems. The FCI-InGaAs-XXX series is packaged in 4 lead, isolated TO-46 cans with AR coated flat windows or micro lenses, to enhance coupling efficiency. Also offered with FC, SC, ST and SMA receptacles, this new high speed InGaAs detector series from OSI Fibercomm is in production and ready to ship now.

ABOUT THE COMPANY:
OSI Fibercomm, a wholly-owned subsidiary of OSI Systems, Inc., is a premier designer and manufacturer of compound semiconductor photodetector components and subsystems essential for high-speed data and voice transmission over fiber optic networks. As a custom fiber optic component and subsystems provider, OSI Fibercomm is a next-generation designer of fiber optic solutions. Please visit osifibercomm.com for more information.

OSI Systems, Inc. is a diversified, global developer and distributor of optoelectronics for security, OEM manufacturing, medical and life sciences, and fiber optics markets. For additional information about OSI Systems, Inc. and subsidiaries, please visit: www.osi-systems.com

More from HVAC