Infrastructure Point Repair System Reduces Storm Water Overflow while Cutting Costs at North Carolina Wastewater Treatment Plant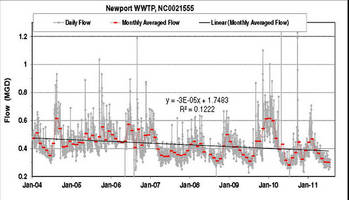 St. Petersburg, FL – The wastewater treatment plant for the City of Newport, North Carolina used to have serious problems with sewage overflow every time it rained more than a quarter inch. Thanks to a repair program that featured 50 Infrastructure Repair Services, Inc. (IRSI) point repairs, flow has steadily decreased and the plant is no longer violating flow limits specified in its National Pollutant Discharge Elimination System (NPDES) permit.



The repair program has been ongoing for years, and has also included home cleanouts by property owners, service replacements, and replacement of failing sewer line. "By far, the most cost effective of these repairs were the Infrastructure Point Repair Systems," according to Clay Dulaney, Utilities Director of the City of Newport. "The repair of ONE major leak cut an hour a day off the runtime of a T6 Gorman Rupp pump [1 MGD rating], and a second set of Point Repairs fixed leakage from a storm drain that was flooding the sewer system every time it rained, causing countless hours of overtime, polymer expense, etc."



The Infrastructure Point Repair System is a method of repairing existing sewer pipe without digging or interruption of service.  An epoxy-saturated liner on an inflatable carrier is inserted through a manhole and placed in the pipe, guided by a camera to ensure accurate positioning. The carrier is inflated, causing the carrier to conform to the walls of the pipe.  After the epoxy cures, the carrier is deflated and removed from the pipe.  The liner forms a permanent repair that is usually stronger than the original pipe.



The chart shows a steadily decreasing trend line in flow to the plant over six years.  The reduction in flow was achieved despite a 20 percent growth in the number of residential sewer services in the same time period.



The city is continuing its repair efforts.  Now that they are complying with the flow limits, they are going back to find places with less serious leaks or other problems that are still worth the expense of a repair. One example is a 12-inch main feed line to the plant that is so corroded that the opening is now only six inches. The plant's engineer estimates that it would cost from $50-70,000 to replace the line segment.  Grinding out the pipe and putting in several IRSI Point Repairs would probably cost only 25 percent of that, allowing the city to achieve greater efficiency at a lower price.



For more information about the Infrastructure Point Repair System contact Infrastructure Repair Services, Inc. at 877-327-4216 or visit the website at www.irsi.net.

More from Mounting & Attaching Products