Infrared Tube Heaters range from 40,000-200,000 BTU/hr.
Press Release Summary: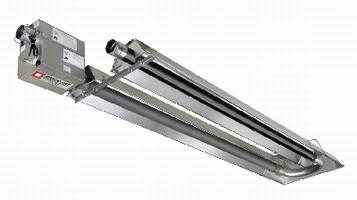 Available in natural and propane gas, PTS/PTU Series uses positive pressure to push products of combustion through calorized aluminized or alumatherm steel combustion chamber. Units come with choice of 1- or 2-stage input controls and totally enclosed burner box that places power, thermostat, and gas connections in one location. Offered in 8 models ranging from 10-70 ft long, heaters include Tube Integrity Safety System(TM), which shuts down heater upon heat exchanger failure.
---
Original Press Release:

Space-Ray Adds Line of Positive Pressure Low Intensity Tube Heaters With Unique Tube Integrity Safety System(TM)



CHARLOTTE, North Carolina - A line of positive pressure low intensity infrared tube heaters has been introduced by Space-Ray with a patent-pending Innovative Tube Integrity Safety System(TM) (TISS) that provides additional safety for building owners.

The TISS(TM) system is unique to Space-Ray.
Available in both natural and propane gas, the new PTS/PTU Series Tube Heaters from Space-Ray use positive pressure to push products of combustion through the heavy-duty calorized aluminized or alumatherm steel combustion chamber. The heat exchangers are available in heavy-duty hot-rolled steel or as an ALC option in calorized aluminized steel for high humidity/corrosive environments.

The heaters come with a choice of one-stage or two-stage input controls for added flexibility and a totally enclosed burner box that places all the power, thermostat and gas connections in one central location for easier installation and maintenance. By being fully enclosed, the noise level of the heaters is below 60 dB(A), making the heaters ideal for applications where minimal noise is desired.

CSA-Certified, the tube heaters are available in eight models and over 100 different configurations for maximum flexibility in custom designing an infrared heating system to precisely meet individual building heating requirements.

Capacities for the PTS/PTU Series range from 40,000 BTU/hr to 200,000 BTU/hr. The PTU Series is designed for use mainly in high heat loss areas and for spot heating while the PTS Series is designed for use in general building heating applications.

The heaters are ideal for retrofitting existing push through systems and are certified for vented (sidewall or through the roof venting) or indirect vented operations, depending on application requirements.

Applications for the new PTS/PTU Series Tube Heaters are varied and range from industrial plants and warehouses to aircraft hangars, machine shops, weld shops, maintenance facilities, automotive body shops and dealerships, fire stations, restaurants, sports facilities and greenhouses, farm buildings or dairy barns, waste water treatment plants, car washes and many others.

Unique TISS(TM) System and Heater Features

With the TISS(TM) system, an insulated wire is placed above the reflector. A low voltage circuit control continuously monitors the clearance between the reflectors and the ceiling for excessive heat and tube integrity compromise. If the heat increases due to heat exchanger failure, the wire melts, the safety circuit is broken and the gas controls shut down.

"We decided that if we introduced a positive pressure system, that we would take steps to assure the integrity of the system and provide the ultimate in fire safety
protection for positive pressure radiant tube heaters," noted Bob Genisol, Vice

President of Space-Ray. "We wanted a system that was safer than what is available in the market today. The TISS provides peace of mind. It may never be needed but in the unlikely event of a tube heater failure you will be pleased that you have a TISS system".

Also unique to the PTS/PTU infrared heaters is a totally enclosed burner box that includes the blower motor, heavy-duty cast iron burner and other features standard with the PTS/PTU Series heaters. These standard features include an outside combustion air collar for added flexibility, external 24 Volt thermostat connection and a three prong power cord connection to minimize installation cost. Also standard within the box are a step opening combination gas valve for quiet operation and added safety, a ½-inch MPT gas connection and monitoring light systems for trouble shooting in case maintenance is required. A 36-inch long stainless steel gas connector is shipped as a standard option with the PTS/PTU Series Infrared Heaters.

Since the combustion chamber is totally enclosed, draft hoods are not required. A heavy-duty ball bearing blower motor comes permanently lubricated to reduce maintenance and does not require any lubrication for the life of it.

Heaters Described

The PTS/PTU Low Intensity Tube Heaters are available with optional end, side, corner and U-Bend reflectors. Lengths for both the PTS or PTU series heaters vary from 10 to 70 feet, depending on the model selected.

The heater's highly efficient aluminum reflectors have a high reflectivity rating
of 97.5% for optimum efficiency. The reflectors totally cover the emitter tubes for uniform energy distribution on the floor level, maximum emitter tube temperature and minimum convection loss. Individual reflectors can be rotated up to 45o to direct the heat where needed. A heavy-duty reflector support hanger adds to the durability of the unit.

The rugged heavy-duty cast iron burner has a 10-year limited warranty, up to a 40-foot outside combustion air duct capability, a direct spark ignition system and 100% gas shut-off safety control. A pre-purge and post-purge function and a diaphragm air switch for proof of venting before gas flow and ignition add to the safety of the unit. A flange connection ensures proper alignment of the burner box.The PTS Series tube heaters are available in Straight, L-Shaped, Z-Shaped or expanded U-Shaped configurations. For added versatility, 90o elbows, corner reflectors and side reflectors are available for mounting near walls, doors and corners.

In contrast, the PTU Series tube heaters are available in seven different "U" shaped configurations that assure uniform radiant heat energy distribution. Minimum mounting heights vary from 10 to 18 feet and Space-Ray recommends the PTS/PTU Series to be mounted as high as possible.

About Space-Ray

With the new PTS/PTU Positive Pressure Infrared Tube Heaters, Space-Ray offers among the broadest and most complete line of tube heaters in the industry with over 300 different heating configurations to choose from to exactly match the need of their customers.

Space-Ray has manufactured gas-fired infrared heating systems since 1958. Like the other Space-Ray radiant tube heaters, the new expanded series offer fuel economy and ease of installation unsurpassed by many competitive systems. Annual fuel savings of as much as 50 percent compared to forced-air heating have been achieved by Space-Ray tube heaters. Some Space-Ray customers report fuel savings as high as 70 percent with a payback in less than one year.

Unlike forced-air heating which works from the top down, radiant gas heat works from the bottom up, warming people, floors, and machines first for optimum comfort.
The first U.S. manufacturer to design unitized tube heaters, Space-Ray has over 50 years of field experience and exposure to industrial heating and commercial
heating problems.

Beside the line of low intensity PTS/PTU Series Low Intensity Tube Heaters using positive pressure, Space-Ray also offers a complete line of negative pressure heaters including a line of 38 different models of LTU Series and LTS Series low and
high capacity tube heaters, 16 ETS/ETU low intensity tube heaters, a complete line of ceramic heaters, and radiant floor heaters. The company also offers an exclusive computerized COMPUHEAT heat loss analysis free of charge to qualified plant managers, contractors and building owners.

Headquartered in Charlotte, North Carolina, Gas-Fired Products also has a wholly owned subsidiary in Ipswich, England.

For more information on the PTS/PTU line of low intensity tube heaters with positive pressure, contact Space-Ray at PO Box 36485, Charlotte, and N.C. 28236, call toll-free (800) 438-4936 or call (704) 372-3485. FAX is (704) 332-5843 and e-mail info@spaceray.com. Space-Ray can also be found on the web at spaceray.com.

More from Sensors, Monitors & Transducers