Temperature Sensors / Detectors / Transducers
Infrared Thermometers provide 122-1,472°F range.
Press Release Summary: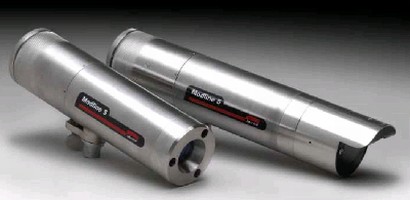 Designed primarily to assist spot weld or induction heat metal treating applications, 2-micron 56-Series Modline 5 Sensors incorporate thermo-electrically cooled detector and internal self-calibration features. Non-contact units have stainless steel NEMA 4-rated housing, high temperature cable, and sealed electrical connectors and electronics. With Total System Health Check capability, sensors automatically verify that they are performing within factory specifications.
---
Original Press Release:

New Addition To IRCON Modline 5 Infrared Thermometer Product Line



New "56-Series" Modline 5 sensors offers a 2-micron unit able to serve lower temperature range applications, and includes new internal self-calibration feature

For many years, the IRCON Modline family of infrared thermometers have solved some
of the toughest non-contact temperature measurement challenges of industry. IRCON continues this legacy with the recent introduction of a new "56-Series" line of Modline 5 sensors.

The new "56-Series" adds a 2 micron range to the Modline 5 product family, along with lower temperature capabilities (122-1472° F / 50-800° C), designed primarily to assist spot weld or induction heat metal treating applications, as well as lower-temperature rubber, thick plastic or textile applications.

The "56-Series" also incorporates a Thermo-Electrically Cooled Detector, and new Internal Self-Calibration features designed to assure greater accuracy for these types of applications.

Like all IRCON instruments, the Modline 5 line of stand-alone infrared thermometers is
designed to handle the challenging demands of manufacturing environments. Incorporating a stainless steel NEMA 4 rated housing to protect against corrosion and humidity, high temperature cable, and completely sealed electrical connectors and electronics, it is designed to perform reliably against some of the harshest production environment conditions.

The Modline 5 sensor family is available in four series that serve a total temperature range of 50 - 3000° C (122 - 5432° F), including spectral ranges 0.85 - 1.1µ ("52-Series"), 1.6µ ("5GSeries), 2µ ("56-Series"), and two-color ratio 0.75 - 1.05µ / 0.85 -1.05µ ("5R-Series).

Beyond reliable, accurate, temperature measurement and easy operation, the Modline 5 family offers innovative and flexible features to serve many industrial process monitoring needs:

Durable, Sealed, Stainless Steel Enclosure
NEMA 4 (IP65) enclosure fully protects electronic components including the control display.

Precise Focus, Rear-Adjustable Optics
Focus on target using a small spot size by twisting the back portion of the sensor housing. Built-in thru-the-lens visual or laser sighting options are available to see the precise area that the sensor measures.

Flexible Control Possibilities
With abilities to function both standalone and networked, standard I/O signal interfaces (both analog and bi-directional RS-485 digital) enable operation with other systems and devices. Complete menu driven setup of the Modline 5 can be accomplished through a rear panel keypad at the back of the sensor, or remotely via RS-485 connection using devices such as a standard Windows PC, the IRCON Digital Panel Meter product or IRCON Modline 5 Multi-Sensor Interface product.

Automatic Sensor Health Check Feature
In continuous monitoring applications, reliability is the key to preventing downtime in a manufacturing plant. Perhaps one of the most unique features of all Modline 5 infrared thermometers is the Total System Health Check capability. When powered up, the sensor can automatically verify that it is performing within factory specifications. The Total System Health Check reviews the infrared detector, electronics, and even the window of the sensor to see if they conform to IRCON standards. With the "56-Series", internal self-calibration can also occur automatically, if necessary. These features help diagnose and ensure that a Modline 5
sensor is not in question during start up or troubleshooting processes, as well assure high sensor reliability and accuracy in continuous operation.

Unique Emissivity Match Function
What can be a complex and frustrating process - determining emissivity to achieve correct temperature readings - is simplified with the Modline 5 Match Function. Simply aim the sensor at the target and adjust settings to the known temperature - Emissivity settings will be automatically adjusted.

Dirty Window Detector Option
An optional Dirty Window Detector (DWD, patent # 5812270) actually "senses" if dirt, water, or other contaminants are built up on the window of the sensor that may interfere with operation. The DWD can provide an alarm notifying the operator if the window needs to be cleaned, rather than their having to manually remove the sensor and inspect it at regular intervals.

Smart Line of Accessories
The Modline 5 family is available with a comprehensive line of hardware accessories designed to simplify installation and maintenance, enable greater operator safety, and assure sensor accuracy and protection in harsh environments. Accessory items include an air purge to keep the sensor optics free of debris, water cooling jackets to protect the sensor in extreme temperatures, and a variety of mounting brackets.

For additional information, please visit ww.ircon.com/modline5 or locate a local IRCON product representative near you at www.ircon.com/reps.

Founded in 1962, IRCON specializes in the design, manufacture and marketing of a wide
range of non-contact temperature measuring solutions. IRCON products include infrared
thermometers, line scanning systems, thermal imaging cameras and software, calibration
equipment and related accessories and services.

An operating company of Spectris plc (www.spectris.com), IRCON is based in Niles, Illinois, USA, with European headquarters in Amersfoort, The Netherlands. IRCON also operates with offices throughout Asia, and through over 120 independent distributors worldwide.

IRCON, Inc.
7300 N. Natchez Ave
Niles, Illinois USA 60714
Tel: 800 323 7660
Fax: 847 647 0948
http://www.ircon.com

Copyright 2007, IRCON, Inc.
IRCON and Modline are registered trademarks of IRCON, Inc.

More from Communication Systems & Equipment