Pyrometers and Infrared Thermometers
Infrared Thermometers have pistol grip design.
Press Release Summary: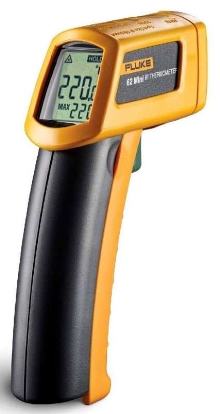 Fluke 62 Mini uses single-dot laser sighting system to indicate center of measurement spot. With temperature range of -20 to +932°F, general-purpose non-contact instrument has distance-to-spot (D:S) ratio of 10:1. Fluke 570 series, designed for predictive maintenance, includes 3 models with adjustable emissivity and coaxial 3-dot laser sighting system. All models have -25 to +1,600°F temperature range and 60:1 D:S ratio. Fluke 576 features integrated digital camera.
---
Original Press Release:
Fluke Expands Pistol-Grip IR Thermometer Line

From basic temperature measurement to predictive maintenance, four new IR thermometers make temperature measurement fast, safe and accurate

EVERETT, WA - Fluke Corporation, the world's leading supplier of handheld test and measurement equipment, has introduced four new models to its line of infrared (IR) thermometers. The Fluke 62 Mini is a convenient general-purpose non-contact thermometer, while the Fluke 570 series, comprised of three models, is designed specifically for predictive maintenance professionals. All are ideal for measuring rotating, electrically live, dangerously hot, or hard-to-reach objects.

Making IR Accessible

The new Fluke 62 Mini makes basic temperature checks quick, easy, and accessible to everyone. It is rugged enough for industrial environments, small enough to keep handy, and inexpensive enough for every member of the team to have. The 62 Mini has a temperature range of -30 to 500 °C (-20 to 932 °F), a distance-to-spot (D:S) ratio of 10:1 and it uses a popular single-dot laser sighting system that indicates the center of the measurement spot.

Predictive Maintenance Precision

Predictive maintenance requires precise tools for condition monitoring and analysis. Powerful optics, an advanced sighting system, very fast response time, and adjustable emissivity make the Fluke 572, 574, and 576 the perfect non-contact thermometers for such demanding applications. The 574 and 576 also come standard with analysis and reporting software, and for complete temperature documentation, the 576 has an integrated digital camera-an invaluable tool in communicating precisely where a problem has been found.

All members of the 570 series have a temperature range of -30 to 900 °C (-25 to 1600 °F), a D:S ratio of 60:1 and an advanced, extra bright* coaxial three-dot laser sighting system that highlights the center and edges of the measurement spot, making precise sighting easier in a variety of lighting conditions and distances. Options include a close focus model, with a minimum spot size of 6 mm (0.24 inches) for use in specialized applications requiring a very small measurement spot, as well as a special version of the 574, the 574-NI, approved by Factory Mutual** for use in potentially hazardous conditions where ordinary electronic equipment might ignite flammable gasses or vapors.

*Laser sight is extra bright as perceived by the human eye, while maintaining the same safety rating as less bright lasers.

** The 574-NI has a factory Mutual Nonincendive rating. The rating from this USA organization reads: "Class I, Division 2, Groups A, B, C, D; Class I, Zone 2 IIC; T4 Ta=50 ºC when used with 1.5 V alkaline batteries." NOTE: Battery changes and RS-232 connection in non-hazardous locations only. 574-NI is not available with close focus.

Fluke Corporation

Fluke Corporation is the world leader in compact, professional electronic test tools. Fluke customers are technicians, engineers, electricians and metrologists who install, troubleshoot, and manage industrial electrical and electronic equipment and calibration processes for quality control.

The new Fluke IR thermometers are now available from Fluke distributors worldwide. US list prices are: Model 62 Mini, $99; Model 572, $710; Model 574, $1095; Model 574-NI, $2195 and Model 576, $1695. For more information or to find the location of the nearest distributor, contact Fluke Corporation, P.O. Box 9090, Everett, WA USA 98206, call (888) 308-5277, fax (425) 446-5116, or e-mail fluke-info@fluke.com.
More from Materials