Pyrometers and Infrared Thermometers
Infrared Thermometer measures surface temperatures.
Press Release Summary: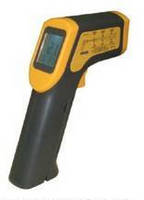 Featuring single-point laser light, 152 x 130 x 38 mm model 530 is suited for measuring surface temperatures from 26 to 986°F in hazardous or hard-to-reach places as well as other situations that benefit from non-contact measurement. Operational accuracy is rated at ±2% +2°C, response time is 500 µsec, and field of view is 12:1. Weighing 145 g, tool suits facility maintenance, HVAC/R system, food safety, electrical, industrial, and maintenance applications.
---
Original Press Release:

Infrared Thermometer for Measuring Surface Temperatures



Toronto, Canada - GAO Comm (www.GAOComm.com) has announced the release of infrared themometer designed for industrial, laboratory, food service, fire fighting, hobby, and home use. It is suitable for measuring surface temperatures in hazardous or hard-to-reach places or other situations in which non-contact temperature measurement is desirable.

This infrared thermometer, model 530, works over a wide temperature range of -32°C to 530°C (26°F to 986°F) at an accuracy of ±2%+2°C. Weighing only 145g, the thermometer has a response time of 500 microseconds. Facility maintenance, HVA/R systems, food safety, electrical, industrial and maintenance are just some of the areas in which the thermometer can be employed.

For sales inquiries please contact:
1-877 585-9555 ext. 601 - Toll Free (USA & Canada)
1-416 292-0038 ext. 601 - All Other Areas
sales@gaocomm.com

About GAO Comm
GAO Comm (www.GAOComm.com) is an international leading provider of communication test instruments, equipment for the installation, testing and maintenance of communications infrastructures.