Pyrometers and Infrared Thermometers
Infrared Thermometer includes pipe clamp for HVAC industry.
Press Release Summary: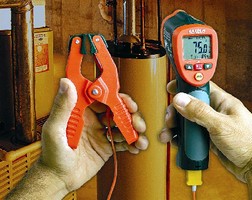 Storing up to 20 readings, Model 42515-T with Type K input is capable of measuring both non-contact and contact temperature. It provides IR measurements from -58 to 1,472°F and Type K thermocouple measurements from -58 to 2,498°F. Battery-powered unit includes manually adjustable emissivity, backlit LCD display, laser pointer, auto-hold, auto power-off, and adjustable high/low alarm that alerts user visually and audibly when temperature exceeds programmed limits.
---
Original Press Release:

Extech Instruments Offers Special Wide-Range IR Thermometer With Pipe Clamp For HVAC Industry



Instant, accurate temperature readings of key HVAC components

Extech Instruments, a major supplier of test and measurement equipment for the industrial marketplace, announces a Special Value offer for the HVAC industry. Extech's 42515-T Wide-Range InfraRed Thermometer with Type K input and added Bonus TP200 pipe clamp allows for instant, accurate readings. Storing up to 20 readings, and capable of measuring both non-contact and contact temperature, the Wide-Range IR Thermometer is ideal for HVAC/R applications.

Extech's 42515-T IR Thermometer delivers a wide temperature range for InfraRed measurements from -58 to 1472°F (-50 to 800°C) as well as the Type K thermocouple measurements from -58 to 2498°F (-50 to 1370°C). Emissivity is manually adjustable, and the bright backlit LCD display provides easy-to-read measurements and programming parameters. Also included is an adjustable high/low alarm to alert the user visually and audibly when temperature exceeds programmed limits.

The Wide-Range IR Thermometer is perfectly suited for measuring the surface temperature of objects that are difficult to reach or unsafe to touch, and is thus an ideal solution for scanning for hot spots on motors, electrical panels, circuits and other equipment. Other advantages of the Wide-Range IR Thermometer include a laser pointer for better aim and accuracy, auto-hold that activates when the measurement trigger is released, and switches built into the handle that allow for easy °C/°F display selection, auto power off and alarm on/off control.

Extech's TP200 K thermocouple sensor pipe clamp provides additional hands-free superheat/subcooling temperature measurement without the use of tape or Velcro by using a spring-loaded jaw for secure grip on pipes from .25" (6.35mm) to 1.5" (38mm) in diameter.

The 42515-T IR Thermometer comes complete with a carrying case, Type K thermocouple sensor (-4 to 482°F/-20 to 250°C), TP200 pipe clamp and 9V battery.

About Extech Instruments
Headquartered in Waltham, Massachusetts, Extech Instruments is one of the largest suppliers of test and measurement equipment worldwide. Founded in 1971, Extech is known for its depth and breadth of products and its innovation in providing instruments with unique combinations of features that make them highly useful and very convenient. All Extech meters are distributed worldwide through leading representatives, distributors and OEMs. The company is ISO 9001 2000 certified.

For further information about Extech Instruments and its products, call 781-890-7440 or visit www.extech.com.

Please send all sales leads to Tracy Milhomme, Marketing Communications Manager, Extech Instruments, 285 Bear Hill Rd., Waltham, MA 02451 USA; Phone: 781-890-7440; Fax: 781-890-7864; Email: tracy.milhomme@extech.com

More from Communication Systems & Equipment