Infrared Spot Heaters warm up to 2,500 sq ft area.
Press Release Summary: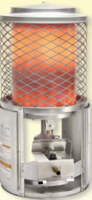 Cylinder-shaped RCH Series includes 4 models that can heat enclosed area up to 2,500 sq-ft without fans or moving parts. Available in propane gas or natural gas, heaters are rated 95,000 BTU/hr or 100,000 BTU-hr, respectively. Units also come in manual or thermostatically controlled models. Measuring 32 in. tall, heaters feature 14 in. dia base, stainless steel emitter, and multiport cast iron burner head. Flame Failure Safety Device is provided in case of flame outage.
---
Original Press Release:
New SunStar® Infrared Spot Heaters Provide A Circle Of Warmth In Up To 2,500 Square Foot Area
CONTACT: Frank Home, Jr. (704) 372-3486 CHARLOTTE, North Carolina - A new heavy-duty infrared spot heater from SunStar® Heating Products of Charlotte, N. C. that doesn't use electricity has been introduced for hard-to-heat areas such as construction sites, unheated work areas, areas requiring supplemental heat such as large buildings, heat in workshops or partially open buildings, emergency heat situations, thawing applications and freeze protection. The compact, cylinder-shaped SunStar® RCH Series spot heaters provide exceptional on-the-job versatility and include features for economy, durability and long life. Each of the four models can comfortably heat an enclosed area of up to 2,500 square feet without using fans or moving parts common with many other spot heaters. Available in propane gas or natural gas, the SunStar® RCH Series spot heaters are rated at a powerful 95,000 BTU/hr for propane gas models or at a 100,000 BTU/hr rating for natural gas models. The heaters also come in manual or thermostatically controlled models. The thermostatically controlled model lets the user set the desired temperature for optimum fuel efficiency. This special control does not require electricity to operate, making it ideal for freeze protection and thawing applications. The large BTU/hr size makes the SunStar® RCH model heaters one of the largest thermostatically controlled infrared spot heaters on the market today. "The heaters provide heat when you need it and where you need it," noted Frank Home Jr., President of SunStar Heating Products. "They are durable and versatile enough to use in a variety of work environments. The compact unit is also light enough to ship UPS." Spot Heater Described CSA design certified, the SunStar® heaters have a compact 14 in. diameter base and a stainless steel emitter. An expanded mesh steel guard protects users from the emitter for safety. The pilot light and main burner are located inside the combustion chamber to protect against drafts, dust or damage. Gas controls are also located within the unit base for easy access and safety. A Flame Failure Safety Device is also provided for safety in the event of flame outage. The emitter beams infrared radiant heat around the entire circumference of the heater. This allows a comfortable, continuous flow of heat without the need for fans and other moving parts. People, floors and objects are warmed directly by the "sun-like" radiant heat. Surfaces absorb the heat and then re-radiate it back to surrounding air to maintain a blanket of warmth within the work environment. High quality materials such as the multiport cast iron burner head and aluminized steel construction underscore the heavy-duty and corrosion resistant materials incorporated in each of the new SunStar® heaters. The all-steel components are welded for strength and bolted for easy maintenance. The unit has a shipping weight of 40 pounds and stands 32 inches tall. The new SunStar® RCH models are sold through rental, hardware, plumbing, heating, and gas equipment wholesale trades throughout the U. S. and Canada. SunStar® Heating Products was founded in 1987 as a wholly owned subsidiary of Gas-Fired Products, Inc. Besides spot heaters, SunStar® offers a complete line of infrared gas heaters including infrared tube heaters, ceramic heaters, garage heaters, patio heaters and radiant and blue flame type vent-free gas room heaters. For more information on the SunStar® Spot Heaters, contact SunStar® Heating Products, Inc., 306 W. Tremont Avenue, P. O. Box 36271, Charlotte, N. C. 28236 or telephone (704) 372-3486 or 1-888-778-6782, Fax is (704) 332-5843 or E-mail info@sunstarheaters.com. SunStar can also be found on the web at www.sunstarheaters.com.
More from Laboratory and Research Supplies and Equipment