Infrared Radiant Tube Heaters offer 99+% efficient reflectors.
Press Release Summary: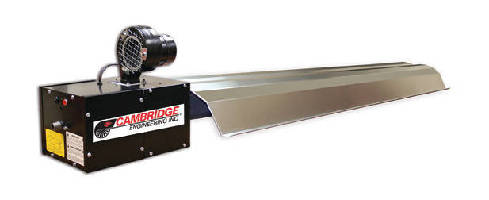 Available in radiant emitter tube lengths from 10-70 ft with ratings from 40,000-220,000 Btu/hr, ITH Series is used to heat entire buildings or as source of focused spot heating in small occupied areas. Gas-fired units feature optimized burners with self-diagnostic ignition and integral post purge feature. Typical applications include manufacturing and assembly areas, small warehouses and loading docks, vehicle repair shops, aircraft hangars, retail stores, and parking garages.
---
Original Press Release:

New Energy Efficient Infrared Radiant Heating Technology from Cambridge Engineering



Cambridge ITH-Series Infrared Radiant Tube Heaters save energy with 99+% efficient reflectors and high performance burners

St. Louis, Missouri - Cambridge Engineering announces a new state-of-the art, competitively priced, energy efficient Infrared Radiant Heater product line with the industry's best 99+% efficient reflector design. Cambridge ITH-Series Infrared Tube Heaters are used to heat entire buildings or as a source of focused spot heating in small occupied areas. Cambridge gas fired infrared heaters save energy by driving more radiant energy to the floor. They use less energy to keep people warm compared to unit heaters and other types of indirect gas-fired space heaters.

Cambridge ITH-Series infrared radiant heaters include a high performance burner with self diagnostic ignition and integral post purge feature for increased reliability. The burner is serviceable from either side while in operation for ease of maintenance. A wide selection of infrared heaters is available with ratings from 40,000 to 220,000 Btu/hr and radiant emitter tube lengths from 10 to 70 feet to fit any space.

Typical commercial and industrial infrared radiant heating applications include providing comfort heating for manufacturing and assembly areas; small warehouses and loading docks; vehicle service, repair and body shops; gymnasiums and indoor sports facilities; aircraft hangars and airport baggage handling areas; city bus facilities and fire stations; retail stores and parking garages.

"Now only Cambridge offers both infrared radiant heaters and direct-fired Blow-Thru space heaters, the two most widely accepted energy efficient technologies for heating commercial and industrial buildings. " said Ken Williams Director of Marketing for Cambridge Engineering.

Ken Williams

Director of Marketing

Cambridge Engineering, Inc.

760 Long Road Crossing Dr.

Chesterfield, MO 63005

tel: 636-532-2233

fax: 636-530-6133

email: kwilliams@cambridge-eng.com

website: www.cambridge-eng.com

About Cambridge Engineering:

Established in 1963, Cambridge is a manufacturing company with strong R&D, engineering and customer oriented problem solving capabilities. Energy efficient Genuine Cambridge space heaters, infrared radiant heaters and make-up air equipment reduce installation costs, operating costs and improve indoor air quality for a wide variety of commercial and industrial facilities. Cambridge Engineering is a U.S. Green Building Council (USGBC) member and ENERGY STAR Partner.

For more information, visit www.cambridge-eng.com or call 800-899-1989

Related