Infrared Oven speeds wire processing.
Press Release Summary: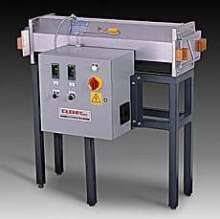 Infrared Oven preheats fine-gauge and braided wire prior to fluoropolymer extrusion. Cylindrical Radround(TM) Series 40 electric infrared heaters incorporate quartz tubes that keep heat in process area. Oven packs 3 kW of power and measures 1.5 ft wide x 4 ft high. CS2000 controls use SCRs to regulate power input to infrared heating elements via thermocouple feedback control loops. Temperatures are adjustable and maintained automatically.
---
Original Press Release:

Glenro Infrared Oven Speeds Wire Processing. . . Preheats Fine Gauge and Braided Wire Prior to Fluoropolymer Extrusion


Paterson, NJ; 22 October 2003 - Glenro has developed a line of infrared ovens for wire manufacturers that preheat fine gauge and braided wire prior to fluoropolymer extrusion. The infrared ovens allow high-speed wire processing while maintaining high product quality. The infrared ovens feature Glenro Radround(TM) Series 40 electric infrared heaters. The Radround heater's internal quartz tube keeps heat in the process area, which makes a highly energy efficient industrial oven. The cylindrical design of Radround infrared heaters permits the transfer of large amounts of infrared heat to narrow, continuously formed products. A single heater infrared oven packs 3kW of power in just four feet in line direction. The oven is 1.5 feet wide by 4 feet high.

Glenro wire processing ovens include Glenro's CS2000 controls for cost-effective, field-proven process heating systems. CS2000 control systems use SCRs to regulate power input to the infrared heating elements via thermocouple feedback control loops. Temperatures are adjustable, and once set are maintained automatically. The integral control system is packaged compactly in a painted NEMA rated enclosure and mounted directly on the oven assembly. The control includes a ventilation blower, panel channels as wire ways, a digital user interface, and power control components.

The wire processing infrared oven, built of aluminized steel, includes insulated, adjustable heat reflectors at each end to improve heating efficiency and to allow the operator to make size adjustments. Like all Glenro industrial ovens, the Radround infrared wire processing ovens are shipped prewired with number coded leads for easy installation, reducing installation costs and line downtime.

"Usually Glenro custom designs industrial ovens for our customers' individual process heating requirements," says Jim Alimena, Glenro's Vice President of Marketing.. "During the past few years many manufacturers of insulated wire, medical catheters, and silicone and fluoropolymer tubing were buying similarly configured industrial ovens using our Radround infrared heaters and temperature control systems. Therefore, we decided to package the infrared heaters and controls into standard industrial ovens using either one or two Radround infrared heaters mounted on painted steel frames with each heater controlled as a separate zone to give the operator processing versatility. We also designed options such as adjustable product support, insulated exhaust hoods, and inclusion of our split-case Radround infrared heater with pneumatic lifting mechanisms for easy access to the interior of the oven. It's similar to buying a car. You select the option package you want along with the model car you're buying. In this case the standard Radround infrared ovens give customers a lot of Glenro's infrared heating technology and process heating engineering expertise when they don't need a custom-engineered and manufactured infrared oven system. Customers appreciate the aggressive pricing and quick delivery."

Headquartered in Paterson, New Jersey, Glenro Inc. provides process heating engineering and equipment for a wide range of industries and applications

More from Fluid & Gas Flow Equipment