Infrared LEDs target camera-based applications.
Press Release Summary: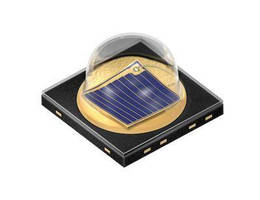 Based on Nanostack technology, in which each chip has two emission centers, IR Oslon Black SFH 4715AS and SFH 4716AS can provide illumination over distance of more than 109.36 yards. Units deliver optical output of 1.37 W at 1 A and offer choice of 90 or 150° beam angles. Measuring 3.85 x 3.85 x 2.29 or 1.15 mm, IREDs are used in surveillance cameras as well as 3D process control cameras to determine distance from object by measuring propagation time.
---
Original Press Release:

Osram Announces New Increase in Output for Infrared LEDs



Osram Oslon Black Stack IREDs provide optimum camera images over large distances



With the new SFH 4715AS and SFH 4716AS, Osram Opto Semiconductors has increased the output of its IR Oslon Black family for the second time in six months. This has been achieved by combining the latest chip design with an optimized package and Nanostack technology, in which each chip has two emission centers. Depending on the type of external optics and the particular application, the infrared light emitting diodes (IREDs) can provide illumination over a distance of more than 100 meters (109.36 yards), which makes them even better light sources for many camera-based applications.



Thanks to their high optical output of 1.37 watts (W) at 1 ampere (A), the new IR Oslon Black Stack components are the most powerful infrared light emitting diodes (IREDs) yet from Osram Opto Semiconductors. The reasons for the increase in output of over 70 percent compared with the standard version include the use of the latest generation of chips, an optimized package design and, most importantly, Nanostack technology, which means that each chip has two emission centers arranged one above the other.



New IR Oslon Black Stack: ideal illumination for surveillance cameras

"After only a brief interval, we are now presenting the same component with a still more improved output. The new Oslon Black Stack generates more light and can therefore provide even better illumination over large distances than the previous versions," said Rajeev Thakur, IR Product Marketing Manager at Osram Opto Semiconductors. These powerful IREDs are the preferred light sources for surveillance cameras. Depending on the type of camera and the number of integrated IREDs, distances of more than 100 meters can be illuminated with infrared light. In addition to their main application in surveillance cameras, these IREDs are also suitable for many other industrial camera-based applications. For example, they are used in 3D process control cameras to determine the distance from an object by measuring the propagation time.



The package dimensions of the Oslon Black Stack components remain unchanged at 3.85 mm x 3.85 mm x 2.29 mm or 1.51 mm. There is also still a choice between beam angles of 90 and 150 degrees, providing for drop-in replacement.



You can find more information on the IRED Oslon Black Stack family in the Osram Opto Semiconductors emitter product catalog.



Technical data for SFH 4715AS/SFH 4716AS:


| | |
| --- | --- |
| Package size | 3.85 mm x 3.85 mm x 2.29 mm / 3.85 mm x 3.85 mm x 1.51 mm |
| Optical output at 1 A | 1.37 W |
| Centroid wavelength | 850 nm |
| Efficiency | typically 43 % |
| Thermal resistance | max. 9 K/W |
| Beam angle | 90° / 150° |

             

http://www.osram-os.com/pr-SFH4715AS



ABOUT OSRAM OPTO SEMICONDUCTORS

OSRAM, Munich, Germany is one of the two leading light manufacturers in the world. Its subsidiary, OSRAM Opto Semiconductors GmbH in Regensburg (Germany), offers its customers solutions based on semiconductor technology for lighting, sensor and visualization applications. Osram Opto Semiconductors has production sites in Regensburg (Germany), Penang (Malaysia) and Wuxi (China). Its headquarters for North America is in Sunnyvale (USA), and for Asia in Hong Kong. Osram Opto Semiconductors also has sales offices throughout the world. For more information go to www.osram-os.com.



Press Contact:

Kate Cleveland

Tel.  248-277-8018

Fax   248-596-0395

Email kate.cleveland@osram-os.com



Technical Information:

OSRAM Opto Semiconductors

Tel. 866-993-5211

Email info@osram-os.com

Related