Infrared LEDs suit remote controls and touch panels.
Press Release Summary: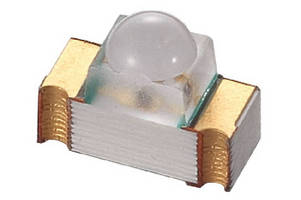 With 1.2 mm height, IR26-71C Series consists of 940 nm side-view SMD infrared LEDs with radiant intensity of 5 mW/sr and 8 mW/sr or more at 20 mA. Viewing angle of 50° ensures that remote control does not need to be directly pointed towards receiving device. Based on similar package design, IR26-61C IRLEDs have 1.2 mm height and viewing angle of 20° for use in 5–32 in. optical touch panel applications.
---
Original Press Release:

Everlight Adds Two IRLEDs for Remote Controls and Optical Touch Panels



Shulin, New Taipei City - EVERLIGHT Electronics Co., Ltd. [TSE:2393], a leading player in the global LED industry with three decades of experience in optoelectronics, expands its product offering of "invisible" light sources for remote control applications with two new SMD infrared LEDs (IRLEDs), the IR26-71C and the IR26-61C.



The two IR26-71C models are 940nm side-view SMD IRLEDs that feature superior mechanical (height) and optical (radiant intensity and viewing angle) characteristics which make them ideal for use in remote controls and touch panels. Their height of only 1.2mm allows the target devices to be as slim as possible, even when implemented into portables like mobile phones and tablets. With a radiant intensity of 5mW/sr and 8mW/sr or more at 20mA, they outperform most SMD IRLEDs in the market. The 8.0mW/sr@20mA version catches up with or exceeds 5mm IR diodes, and allows either lower driving currents, to extend the battery lifetime of handheld devices, or increased panel sizes respectively increased transmission distance of remote controls. A viewing angle of 50° ensures that the remote control does not need to be directly pointed towards the receiving device, but instead provides a wide operating range.



Based on a similar package design, Everlight offers the IR26-61C IRLED series with a narrower viewing angle of 20° and the PT26-71B phototransistor series, which are both matching pairs designated for small-middle (5-32") size optical touch panel applications. Due to the same low height of only 1.2mm, the slit for the touch panel's optical frame can be kept very small, thus allowing the device to be slimmer and have a higher quality appearance.



Sample Available: Yes. (Upon request)

Mass Production: Now



More information or data sheet for this product upon request: Please contact your local Everlight sales office. Local sales information: www.everlight.com



The Right LED for the Right Application

A dedicated application-based marketing approach supports the idea that every application is to be paired with "The Right LED" to provide the best performance and quality. Every package design presents its own advantages in certain applications.



Everlight is fostering close relationships between their R&D, Sales and Marketing teams to meet and exceed their customers' expectations in both product offering and technology. Everlight provides a great variety of customers with total solutions for their different applications and is incessantly committed to satisfy the strongly growing global market for LED solutions.



About EVERLIGHT Electronics Co. Ltd.

EVERLIGHT Electronics Co., Ltd. was founded in 1983 in Taipei, Taiwan. Playing a critical role in the formation of the global LED industry, the company is rapidly ascending to become a leading supplier due to its dedication to certification, R&D, production, quality, marketing and global customer service. EVERLIGHT provides a diverse product portfolio consisting of high power LEDs, lamps, SMD LEDs, LED lighting modules, digital displays, optocouplers and infrared components for various applications. Today, Everlight is a global company with over 6,400 employees based in China, Hong Kong, Japan, Korea, Singapore, Malaysia, Germany, Sweden, U.S., and Canada. Please visit us at www.everlight.com

More from Fluid & Gas Flow Equipment