Infrared LED Light Bar reaches over 1,450 ft.
Press Release Summary: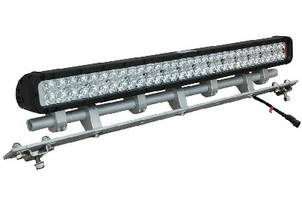 Suited for military, law enforcement, and security fields, Model LEDLB-60ET-IR comes in 850 Nm for use with common security cameras and night vision goggles, or 940 Nm for use with latest military night vision equipment. Unit features 60 Edison Edixeon® 3 W infrared emitters paired with high efficiency optics to produce IR beam reaching 1,450 ft in length and 240 ft wide. Housed in extruded aluminum with unbreakable polycarbonate lens, IP68-rated fixture withstands submersion up to 3 m.
---
Original Press Release:

New High Output Infrared LED Light Bar Released by Larson Electronics



Larson Electronics has announced the release of a new LED light bar designed to produce high power infrared illumination for demanding applications utilizing night vision devices and equipment. The LEDLB-60ET-IR Infrared LED Light Bar can produce a beam of invisible infrared light reaching over 1400 feet in length and is designed to withstand the punishing operating conditions encountered with military and professional use.



The LEDLB-60ET-IR infrared LED light bar from Larson Electronics provides professionals in the military, law enforcement and security fields with a powerful and extremely rugged infrared lighting solution that can help improve the performance of night vision gear, security cameras, and other devices that rely on invisible infrared illumination. This high output infrared LED light bar is designed to produce invisible infrared light that can only be seen with the aid of night vision equipment. Available in either 850Nm for use with common security cameras and night vision goggles, or 940Nm for use with the latest generation of military night vision equipment, this heavy duty light bar can fill a wide variety of roles effectively. This LED light features Sixty Edison Edixeon® 3 watt infrared emitters that have been specially paired and arranged with high efficiency optics to allow this fixture to produce an infrared beam reaching 1,450 feet in length and 240 feet wide. This fixture can also be ordered in floodlight configuration to produce a beam 490 feet long by 450 feet wide for applications where wider coverage is desired. The housing on this light bar is formed from extruded aluminum for light weight and high strength, and an unbreakable polycarbonate lens provides excellent protection against scratching and damage from impacts. The entire fixture is IP68 rated, meaning it can withstand submersion up to 3 meters of depth without adverse effects, making this light impervious to the effects of driving rain and rugged outdoor conditions. This fixture is also highly resistant to damage from vibrations, and can also withstand rapid temperature changes of -40 degrees Celsius to 85 degrees Celsius, making them also well suited to use on vehicles that encounter extremes of terrain and temperature. This LED light bar also contains advanced LED drivers that actively manage heat and voltage, allowing the LEDs to operate at full power without any loss in performance or longevity, and be run directly from any current ranging from 9 to 42 volts DC. Mounting for this infrared LED light bar is accomplished with an included trunnion type bracket that lets users simply bolt the fixture to any flat surface and then adjust the vertical positioning of the lamp as needed. Wiring for this light is also straightforward and simple through the inclusion of a small pigtail harness ending in a Deutsch IPD / LADD connector with matching male plug. The LEDLB-60ET-IR is powerful, low profile in design, and an ideal infrared light source for operators who frequently perform covert operations that utilize night vision gear such as military units and law enforcement professionals.



"The LEDLB-60ET-IR infrared LED light replaces old covert implementations of halogen and HID lights with specially made cut off filters," said Rob Bresnahan with Larson Electronics' Magnalight.com.  "This reduces cost, weight and consumables for operators like state game wardens that use infrared lighting on a nightly basis."



Larson Electronics produces a full range of industrial and commercial lighting equipment, infrared LED light bars, LED work lights, military and law enforcement lighting equipment, and a full line of heavy duty LED and metal halide light towers. To view the entire Larson Electronics line of industrial grade lighting solutions, visit them on the web at Larsonelectronics.com. You can also call 1-800-369-6671 to learn more about all of Larson Electronics' lighting products or call 1-214-616-6180 for international inquires.

More from Non-Industrial Products