Infrared Emitting Diodes offer wide-dome lenses.
Press Release Summary: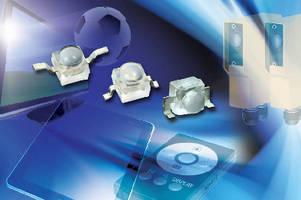 With 850, 890, and 940 nm wavelengths, VSMY2853, VSMF2893, VSMB2943, and VSMB2948 Series provide ±25° and ±28° angles of half intensity and optical power from 20–35 mW/sr at 100 mA drive current. Units feature GaAIAs surface emitter chip (VSMY2853), double hetero (VSMF2893), and multi quantum well (VSMB2943, VSMB2948) technologies. Supplied in 2.3 x 2.3 x 2.5 mm gullwing and reverse gullwing packages as well as 2.3 x 2.55 x 2.3 mm side-view packages, emitters offer switching speeds down to 10 ns.
---
Original Press Release:

Vishay Intertechnology Releases New High-Power, High-Speed 850 nm, 890 nm, and 940 nm Infrared Emitters in Gullwing, Reverse Gullwing, and Side-View SMD Packages



Offering Wide-View Dome Lenses, Devices Feature ± 25° and ± 28° Angles of Half Intensity and Optical Power to 35 mW/sr



MALVERN, Pa. — Vishay Intertechnology, Inc. (NYSE: VSH) is broadening its optoelectronics portfolio with the introduction of high-power, high-speed 850 nm, 890 nm, and 940 nm infrared emitters in gullwing, reverse gullwing, and side-view surface-mount packages with wide-view dome lenses.



VSMY2853, VSMF2893, VSMB2943, and VSMB2948 series devices consist of an adapted lens radius to provide wide ± 25° and ± 28° angles of half intensity. The resulting typical radiant intensities range from 20 mW/sr to 35 mW/sr at a 100 mA drive current. Saving space over PLCC2 solutions, the IR emitters are available in compact top-view 2.3 mm by 2.3 mm by 2.5 mm gullwing and reverse gullwing packages, and in 2.3 mm by 2.55 mm by 2.3 mm side-view packages.



Featuring GaAIAs surface emitter chip (VSMY2853), double hetero (VSMF2893), and multi quantum well (VSMB2943, VSMB2948) technologies, the devices are optimized for tablet IR touch panels, shutter glass synchronization in 3D TV applications, remote controls, light curtains, light barriers, metering systems, and external emitter sources for proximity applications. For automotive applications, the VSMB2943 and VSMF2893 are AEC-Q101-qualified.



The infrared emitters released today offer fast switching speeds down to 10 ns, low forward voltages down to 1.35 V at 100 mA, and operating temperatures from -40°C to +85°C. The devices ensure a four-week floor life and provide a moisture sensitivity level (MSL) of 2a in accordance with J-STD-020. The VSMY2853, VSMF2893, VSMB2943, and VSMB2948 series are compliant to RoHS Directive 2011/65/EU, halogen-free per JEDEC JS709A, and conform to Vishay's "Green" standards.



Device Specification Table:







Part number



Package



Peak emission wavelength
(nm)



Radiant intensity
@ 100 mA
(mW/sr)



Angle of half intensity
(°)



Optical power
@ 100 mA (mW)



VF @ 100 mA
(V)



Switching times
(ns)
 





VSMB2943GX01*
 



Gullwing



940



20



± 25



40



1.35



15





VSMB2943RGX01*



Reverse gullwing



940



20



± 25



40



1.35



15





VSMB2943SLX01*



Side view



940



20



± 25



40



1.35



15





VSMB2948SL



Side view



940



20



± 25



40



1.35



15





 VSMF2893GX01*



Gullwing



890



20



± 25



40



1.4



30





VSMF2893RGX01*



Reverse gullwing



890



20



± 25



40



1.4



30





VSMF2893SLX01*



Side view



890



20



± 25



40



1.4



30





VSMY2853G



Gullwing



850



35



± 28



55



1.65



10





VSMY2853RG



Reverse gullwing



850



35



± 28



55



1.65



10





VSMY2853SL



Side view



850



35



± 28



55



1.65



10





 

*AEC-Q101 qualified



Samples and production quantities of the new infrared emitters are available now, with lead times of eight weeks for large orders. Pricing for U.S. delivery in 5,000-piece quantities starts at $0.15 per piece for the VSMB2943 and VSMB2948 series, $0.19 per piece for the VSMF2893 series, and $0.25 per piece for the VSMY2853 series.



Vishay Intertechnology, Inc., a Fortune 1,000 Company listed on the NYSE (VSH), is one of the world's largest manufacturers of discrete semiconductors (diodes, MOSFETs, and infrared optoelectronics) and passive electronic components (resistors, inductors, and capacitors). These components are used in virtually all types of electronic devices and equipment, in the industrial, computing, automotive, consumer, telecommunications, military, aerospace, power supplies, and medical markets. Vishay's product innovations, successful acquisition strategy, and "one-stop shop" service have made it a global industry leader. Vishay can be found on the Internet at www.vishay.com.

http://twitter.com/vishayindust

http://www.facebook.com/VishayIntertechnology

More from Electrical Equipment & Systems