Infrared Emitters offer up to 200 mW/sr radiant power.
Press Release Summary: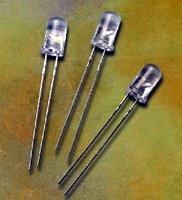 Available in 870 and 940 nm wavelengths, HSDL-42xx Series Emitters are fabricated using aluminum gallium arsenide LED technology and are housed in 5 mm through-hole package. Iron lead frames dissipate power over wide range of currents. Models rated at 870 nm are suited for IR communications, whereas 940 nm units are typically used for remote-control applications.
---
Original Press Release:

Avago Technologies Introduces High-Power 870- and 940-Nanometer Infrared Emitter Family



5-mm Lamps Offer Up to 200 mW/sr Radiant Power, High-Speed, Low Forward Voltage and Cost Savings in Consumer and Industrial Applications

SAN JOSE, Calif., Jan. 9, 2006 -- Avago Technologies today introduced a family of high-power infrared (IR) LED emitters with 870- and 940-nanometer (nm) wavelengths in 5-mm (T-1 3/4) through-hole packages. These new IR emitters are fabricated using the company's high-power aluminum gallium arsenide (AlGaAs) LED technology, which has been optimized for high radiant intensity, speed and low forward voltage. The 5-mm packages are built with iron lead frames that dissipate power efficiently over a wide range of currents.

Avago's HSDL-42xx series IR emitters are specifically optimized to meet today's requirements for increased infrared transceiver link distances and higher data rates in consumer, industrial and communications applications. Such applications range from access controls and portable instruments, to IR optical mice and smoke detectors, to IR LAN transceivers and audio links. The 870-nm wavelength is commonly used for IR communications, and the 940-nm is typically used for remote-control applications.

"Manufacturers today need high-power, low forward voltage and high-speed infrared emitters as infrared transceiver link distance requirements and data rates continue to increase across all applications," said Chee-Kien Lim, infrared worldwide marketing manager for Avago Technologies' Optical Communication Solutions Division. "Our new family of infrared emitters meets and exceeds the needs of our customers."

Avago's HSDL-4250 and HSDL-4251 operate at 870-nm peak wavelength with low forward voltage of 1.4 V at 20 mA and optical rise and fall times of 40 ns. The HSDL-4250 features a typical on-axis intensity of 180 mW/sr (milliwatts per sterradian) with a 15-degree viewing angle. The HSDL-4251 features 100 mW/sr intensity and a 30-degree viewing angle. Intensities are measured at 100 mA forward current.

With an 875-nm peak wavelength, the Avago HSDL-4260 provides typical 200-mW/sr on-axis intensity at 100 mA, a 15-degree viewing angle, and 15-ns optical rise and fall time. Forward voltage is 1.4 V at 20 mA. Avago's HSDL-4270 and HSDL-4271 operate at 940-nm peak wavelength with a forward voltage of 1.3 V at 20 mA, and a 1.3-microsecond optical rise and fall time. The HSDL-4270 provides 100-mW/sr typical on-axis intensity and a 15-degree viewing angle. The HSDL-4271 provides 50-mW/sr intensity and a 30-degree viewing angle.

U.S. Pricing and Availability
The HSDL-42xx series IR emitters are priced at less than $0.25 each in high volumes. Samples and production quantities are available now through Avago Technologies' direct sales channel and worldwide distribution partners.

Further information about Avago's infrared products is available at www.avagotech.com/ir.

About Avago Technologies
Avago Technologies is the world's largest privately held semiconductor company, with 6,500 employees and net revenue of $1.8 billion in fiscal 2005. Avago provides an extensive range of analog, mixed-signal and optoelectronic components and subsystems to more than 40,000 customers worldwide. The company serves three primary product categories comprising optoelectronics, RF/microwave components and enterprise ASICs, and is recognized for providing innovative, high-quality products along with strong customer service and the industry's best on-time delivery. Avago's heritage of technical innovation dates back 40 years to its Agilent/Hewlett-Packard roots. Information about Avago is available on the Web at www.avagotech.com.

Avago, Avago Technologies, and the A logo are trademarks of Avago Technologies, Pte. in the United States and other countries.

More from Construction Equipment and Supplies