Infrared Chamber Heater handles tube, cable, and wire.
Press Release Summary: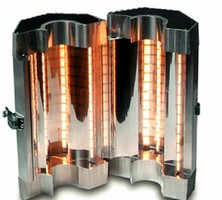 Utilizing 4 elliptical reflectors, ChamberIR Model E4 focuses high-density infrared energy generated by T3-style halogen lamps onto cylindrically shaped target area. Elliptical chamber rapidly heats small-size continuous materials with OD less than 0.25 in. Designed to heat up and cool down instantly in response to power control signals, lamps reach 90% of full operating temperature within 3 sec of cold start. Reflectors come in heated lengths of 2, 5, 6, 10, 16, 25, and 38 in.
---
Original Press Release:

10 Times Faster Than Competative Convection or Hot Wall Radiant Systems



Research Inc. Introduces the ChambIR E4 Infrared Chamber Heater

September, 2006 Eden Prairie, MN - Research, Inc., an industry leader in the design, development, and manufacture of electric infrared heating components and integrated heating systems, introduces the newly improved ChamberIR Model E4 infrared heater. The Model E4 focuses high-density infrared energy generated by 'T3-style' halogen lamps, onto a cylindrically shaped target area.

The Model E4 elliptical chamber is designed for rapid heating of small size continuous materials such as tube, cable, and wire with an outer diameter less than 0.25 inches (6 mm). Typical applications for the Model E4 are curing small-diameter silicone tubing, re-glossing small-diameter plastic tubing, burning lubricant off extruded wire, curing coatings or adhesives on wire or cable, and drying water from wire or cable. The E4 may also be used as a high temperature furnace in test applications.

Fast responding quartz lamps heat up and cool down instantly in response to power control signals. They reach 90 percent of full operating temperature within three seconds of a cold start. The radiant energy dissipates to ten percent five seconds after power is removed. A variety of high intensity, short wave, 'T3-style' infrared lamps are available for the different heated lengths of the Model E4. T3 lamps have a small filament, which allows the energy to be focused towards a target By focusing the IR, the concentration of heat is greatly increased, which allows higher process line speeds.

Four elliptical reflectors focus the infrared energy, supplied by the lamps installed in the chamber, to a cylindrical column centered in the chamber. The reflectors are constructed from aluminum polished to a spectacular finish. They are available in heated lengths of 2, 5, 6, 10, 16,25, and 38 inches (51, 127, 152,254,406, 635 and 965 mm). An optional quartz liner can be installed to protect the reflectors from contaminants.

The infrared energy emitted from the Model E4 can be adjusted to match the heating requirements of a variety of applications. Research, Inc. offers a complete line of SCR power control instrumentation to control the operation of the E4.

Research Inc.'s products are designed to solve a wide variety of process problems involving heating, curing, drying, soldering, bonding, and annealing of many different materials. Encompassing a broad spectrum of industrial markets, our customers range from large, multi-divisional corporations to small proprietorships.

For press information, please contact:
Gail Martinson Marketing Services Manager
Research, Inc.
(952) 829-8356
gmartinson@researchinc.com

More from Machinery & Machining Tools