Information Management Software aids cardiovascular care.
Press Release Summary: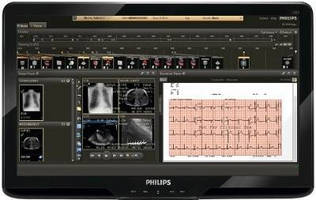 Offering web-enabled image and information management system, IntelliSpace Cardiovascular produces holistic view of patient's care continuum across entire cardiovascular service line. Solution provides cardiologists with sophisticated tools for diagnosis and planning of patient cardiovascular care. By centralizing patient data from different areas of hospital, solution allows all care team members to view patient's history, fostering collaboration and potentially eliminating unnecessary tests.
---
Original Press Release:

Philips Spotlights IntelliSpace Cardiovascular Image and Information Management Solution at the American College of Cardiology Conference



- A connected cardiology solution that features Advanced Analytics and Diagnostic Guidance

- Provides physicians with the sophisticated tools to access, analyze and share cardiovascular images and information anytime, from virtually anywhere.



SAN DIEGO,  -- Royal Philips (NYSE: PHG; AEX: PHIA) today announced the launch of IntelliSpace Cardiovascular, a web-enabled image and information management system (CVIS) with a single integrated workspace that produces a holistic view of the patient's care continuum across the entire cardiovascular service line. The new solution provides cardiologists with sophisticated tools for diagnosis and planning of patient cardiovascular care.



"The new era of value-based care and population health management is requiring cardiologists to collaborate and share information more readily with other care team members across various care settings," said Jeroen Tas, CEO, Healthcare Informatics Solutions and Services, Philips. "IntelliSpace Cardiovascular marks the next generation of cardiology imaging and innovation, serving as a layer of interoperability that allows all care team members to access data and sophisticated clinical applications within one workspace."



Improving interoperability to enhance collaboration

By centralizing patient data from different areas of the hospital, IntelliSpace Cardiovascular helps facilitate a streamlined workflow and improve patient care. The new way information is displayed allows all care team members to view the patient's history spanning diagnosis, treatment and therapy, fostering collaboration and potentially eliminating unnecessary and repetitive tests.



IntelliSpace Cardiovascular offers a suite of interoperable clinical modules designed to help improve workflow across the entire cardiovascular service line from virtually anywhere. Built-in echocardiography reporting features give cardiologists the ability to identify and eliminate inaccuracies within reports.



Guiding diagnostics through advanced analytics

Population health management is a challenge that requires access to a broad spectrum of data, including discrete information about a patient's condition. IntelliSpace Cardiovascular includes built-in tools for analytics, which compile data into searchable and manageable information for physicians, administrators and researchers. The analytic capabilities provide insight into operational efficiency, productivity and population health, allowing care team members to focus more of their time on delivering the best possible patient care.



Philips will be featuring IntelliSpace Cardiovascular at the American College of Cardiology Conference in their booth #137.



For more information on the new Philips portfolio of solutions, visit www.philips.com/IntelliSpaceCardiovascular and follow the #ACC15 conversation via @Philips and @PhilipsHealth.



For further information, please contact:

Kathy O'Reilly

Philips Press Office

Tel: +1 978-659-2638

Mobile: +1 978-221-8919

Email: kathy.oreilly@philips.com

Twitter: @kathyoreilly



Sabine Detiger

Philips Healthcare Informatics Communications

(mobile) +31 (0)6 15043894

Sabine.detiger@philips.com

Twitter: @sabinedetiger



About Royal Philips

Royal Philips (NYSE: PHG, AEX: PHIA) is a diversified health and well-being company, focused on improving people's lives through meaningful innovation in the areas of Healthcare, Consumer Lifestyle and Lighting. Headquartered in the Netherlands, Philips posted 2014 sales of EUR 21.4 billion and employs approximately 105,000 employees with sales and services in more than 100 countries. The company is a leader in cardiac care, acute care and home healthcare, energy efficient lighting solutions and new lighting applications, as well as male shaving and grooming and oral healthcare. News from Philips is located at www.philips.com/newscenter.



Web Site: http://www.usa.philips.com

More from Communication Systems & Equipment