Inert 2-/3-Way Isolation Valves are designed for continuous duty.
Press Release Summary: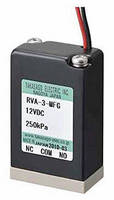 Designed with all ports on bottom, manifold mount RVA Series has 16 x 27 mm footprint and includes 2-way NC, 2-way NO, and 3-way versions supplied with PEEK valve bodies and perfluoroelastomer diaphragms and seals as standard. PPS valve bodies and FPM or EPDM diaphragm and seals are available. Intended for fluid control in automated clinical, analytical, and biotech chemistry applications, rocker type inert isolation valves can be supplied with built-in voltage dropping circuit.
---
Original Press Release:

New 2-Way & 3-Way Inert Isolation Valve Ideal for Automated Chemistry Applications



RVA Series Manifold Mount Valves feature small footprint, reduced energy consumption, and low heat generation. Can be used in continuous duty applications.



Hudson, MA – Clark Solutions introduces the RVA Series Rocker Type Inert Isolation Valve Series. The valves manifold mount and have very low internal volume and zero dead volume. Pumped volume is quite small as there is no volumetric change in the valve chamber with actuation of the rocker. They are ideal for fluid control in automated clinical, analytical and biotech chemistry applications.



Designed with all ports on the bottom and a very small, 16mm x 27mm footprints, RVA Series Valves make it possible to minimize the overall manifold size.



Offered in three versions: 2-way N.C., 2-way N.O., and 3-way, RVA Series Inert Isolation Valves are supplied with PEEK valve bodies and feature perfluoroelastomer diaphragms and seals.  RVA Valve models are also available with PPS valve bodies and FPM or EPDM diaphragm and seals.



RVA Series Rocker Type Isolation Valves are designed for continuous duty. Optionally they can be supplied with a built-in voltage dropping circuit that drops the voltage to a holding voltage 100 ms after the valve is energized. This built-in voltage dropping circuit reduces heat generation and energy consumption.



Clark Solutions has a fifty-year history of providing unique solutions to the control, measurement, and monitoring of flow, energy, pressure, force, and level in liquids and gases.  Located in Hudson, Massachusetts, the company offers a wide variety of valves, including pneumatic valves, inert isolation valves, solenoid operated valves, valve actuators, pinch valves, manifold valves, ball valves, globe valves, butterfly valves, needle valves, and miniature and subminiature valves.



Instrumentation offerings include devices to record, monitor, and control flow, velocity, pressure, temperature, humidity, level, gas concentration, energy, and other properties.  Clark Solutions also provides a wide range of pumps for air, gases, and liquids, including diaphragm pumps, peristaltic pumps, piston pumps, rotary vane pumps, gear pumps, impeller pumps, centrifugal pumps, and bellows pumps.



For more information, contact:

Clark Solutions

10 Brent Drive

Hudson, MA 01749

Tel. 800-253-2497

Fax 978-568-0060

email sales@clarksol.com

visit our web site at http://www.clarksol.com.



Product URL:  http://www.clarksol.com/html/RVA-SeriesValve.cfm

Low Resolution Image:  http://www.clarksol.com/images/2238_01.jpg

High Resolution Image:  http://clarksol.com/hiresimages/RVA hi res.jpg

More from Electronic Components & Devices