Industry-Specific Solutions from Montech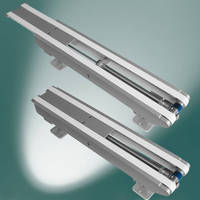 Derendingen (29/07/2009) At the EU Photovoltaic show in Hamburg, the Swiss company Montech AG is introducing specific solutions for the transport and handling of wafers, cells and carriers.

Wafer belt conveyors, discharge belts, conveyors with lifting units, vacuum belts, waste extraction belts, process belts and centering belts will be under the spotlight in Stand 29 in Hall B1G. "The key benefit for users is that wafers or cells no longer have to be picked from above. "In this way, typical micro cracks are avoided," says Gianluca Aloisi, Conveyors Division Manager, Montech. Therefore, Montech offers tailor-made solutions for the specific products and processes of the solar industry.

Belt conveyor for wafers

The belt conveyor for wafers consists of a supporting frame and two belts driven in synchronous mode. Possible wafer debris can be discharged through the open gap between the two belts. The wafer conveyor can be used in wet and dry processes. Thanks to its modular concept, the belt conveyor can be tailored to the specific needs of each user in terms of length and width. The conveyor structure can also be selected freely and adapted to each machine individually. The whole structure can be assembled and dismantled from above, while the belt itself can be replaced without disassembling the supporting frame.

Easy and soft loading and unloading of wafer carriers

The new unloading conveyor is a double-belt system including a fixed section and a sliding section with 160 mm stroke. The sliding section runs into the carrier driven by a pneumatic cylinder. "A key feature is that this loading/unloading system is made up of just a pair of belts and a drive, thus offering a cost-effective as well as efficient solution," says Aloisi. "Compared to convention carrier loading/unloading solutions based on handling components, wafers are carried more accurately and softly with the new unloading conveyor."

Intralogistic solution

For intralogistics upstream, downstream and between machinery, the Montrac transport system offers an optimal solution, says Yves Dicke, Montrac Division Manager, Montech: "Smooth and soft transport, independent control and maximum flexibility guarantee a perfect handling of the wafer trays," adds Dicke.


More from Optics & Photonics