Industrial Vacuums are built for performance and usability.
Press Release Summary: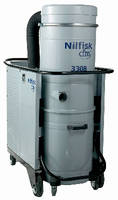 Suited for process-integration systems, central systems, or general maintenance, 3-phase 08 series gives food processing facilities cleaning abilities needed for continuous-duty applications. Graduated filtration, oversized filters, and standard HEPA or optional ULPA filters trap up to 99.999% of ultra-fine particles, and ergonomic filter shaker safely purges filter to prevent clogging/downtime. Portable units can also be customized to accommodate various materials being collected.
---
Original Press Release:

Nilfisk CFM 08 Industrial Vacuum Series: Puts the "Industrial" in Industrial Vacuum



Malvern, PA, September 28, 2009-Loaded with features and benefits, the 08 series of industrial vacuums by Nilfisk CFM are the ultimate plant maintenance workhorses, offering power, versatility and a variety of features that enhance both performance and usability.

Ideal for process-integration systems, central systems or for general maintenance, the three-phase 08 series, which includes the 3308, 3508, 3508W, and 3558, gives food processing facilities the cleaning muscle they need for continuous duty applications, effectively collecting and retaining contaminants such as fine flour, bacteria, or packaging scraps. Features include:


Efficient filtration: Graduated filtration, oversized filters and HEPA and optional ULPA filters that trap up to 99.999% of all ultra-fine particles, eliminate debris while keeping performance high.

Ergonomic filter shaker: Safely and easily purge the filter to prevent clogging and downtime. Reverse purge and electric filter shakers are also available.

Portable Design: Equipped with extra-large wheels and a wrap-around handle; users can push, pull, or maneuver the vacuum with ease.

Low Noise Operation: The 08 series is quieter than ever, with a sound suppressor that reduces the speed of the exhaust air and muffles the sounds for increased worker comfort and safety.

In addition, the modular Nilfisk CFM 08 Series vacuums can be customized based on the type of materials being collected (i.e., fine dust/powders, debris, toxic materials, liquids, etc.) using dozens of interchangeable accessories, hoses, and filters-including those for overhead cleaning. Stainless steel models are also available.

For more information, visit foodprocessingvacuum.com.

Nilfisk CFM, the industrial vacuum division of Nilfisk-Advance America, helps its industrial customers meet their individual cleaning requirements and challenges with an extensive range of high-performance vacuum cleaners. From its Malvern, Pa. headquarters, the IVAC division provides industrial vacuums for heavy-duty applications that require maximum suction power; and specialty vacuums for clean applications that demand "absolute" air purity and facility cleanliness. The company's vacuums are equipped with industry-specific features and exceptionally efficient filtration systems, ensuring dust- and debris-free facilities in the food, chemical/pharmaceutical, electronics, metalworking/powder coating, and a variety of manufacturing industries. stop-the-dust.com

More from Mechanical Power Transmission