Industrial Ultrasonic Processor runs continuously at 2,000 W.
Press Release Summary: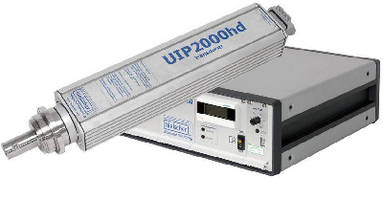 With typical flow rates from 2-10 m³/day, Model UIP2000hd is suited for liquid processing, including emulsification, dispersing, particle size reduction disintegration, extraction, and homogenizing. Processor supports sonotrode amplitudes up to 170 micron, liquid pressures to 10 bar, and liquid flow rates to 15 lpm. System delivers power at controlled amplitude level, so that magnitude of mechanical ultrasonic vibrations at sonotrode is constant under all load conditions.
---
Original Press Release:

Hielscher UIP2000hd - High Efficiency Ultrasonication for Manifold Applications



The novel Hielscher UIP2000hd (20kHZ, 2000W) entails considerable advances in ultrasonic technology. The UIP2000hd is an industrial ultrasonic device for liquid processing, such as emulsification, dispersing, particle size reduction by milling and grinding, as well as disintegration, extraction or homogenizing. It features highest flexibility and robustness. It has been developed for the application on heavy duty and for the high performance operation of 24/7. Of course, the UIP2000hd can be run at 2000 watts continuously.

The field of application reaches from R&D up to the industrial production of medium scale volumes. The UIP2000hd is commonly used for the inline sonication (single pass or loop) in order to obtain a better processing quality; but of course, it can be used for batch sonication, too.

The typical flow rates of the UIP2000hd range between approx. 2 to 10m³ per day. For higher production throughput, the use of either multiple units or one of the larger Hielscher ultrasonic processors, such as the UIP4000, UIP10000 or UIP16000, is recommended.

As all Hielscher ultrasound devices, the UIP2000hd allows for running at a wide range of ultrasonic parameters sets: ultrasonic amplitude, liquid pressure and liquid composition can be varied. This possibilities sonication with following adjustments:

sonotrode amplitudes of up to 170 micron

liquid pressures of up to 10 bars

liquid flow rates of up to 15L/min (depending on the process)

liquid temperatures of up to 80 degC (other temperatures on request)

material viscosity of up to 100.000cp

Of course, the UIP2000hd can be run at 2000W continuously. It delivers the power at a controlled amplitude level, so that the magnitude of the mechanical ultrasonic vibrations at the sonotrode is constant under all load conditions. The amplitude can be changed from 50 to 100% at the generator and by using various booster horns. The set amplitude is constant, while sonicating any material at any pressure. This feature gives the operator full control over the most important sonication parameter: the amplitude.

The UIP2000hd comes with an intelligent automatic frequency tuning that finds the optimal operational frequency automatically and ensures thereby a higher overall energy efficiency and reliability.

This flexibility allows for finding the optimal process configuration. The UIP2000hd offers exact reproducibility and linear scaleability. Any sonication setup can be reproduced and can be used at continuous operation or can be scale up to any larger unit. For the individual process set-up, Hielscher offers a wide range of accessories, like sonotrodes, boosters and flow cell reactors and sound protection boxes. The PC-Control (optional software interface) allows for the recording of the individual test runs.

While the UIP2000hd can be used in the lab, it is designed and built for industrial processing. It requires little maintenance, is easy to setup and simple to clean and to sanitize. We offer special flow cell reactors meeting the advanced CIP (clean-in-place) and SIP (sterilize-in-place) requirements. The transducer of the UIP2000hd is IP65 grade and withstands dirt, dust, moisture or outside operation.

For further informations, please visit our website www.hielscher.com/ultrasonics/industry.htm or contact:

Hielscher USA, Inc.

19 Forest Rd.

Ringwood, NJ 07456, USA

Tel: +1 973 616 9136

Fax: +1 973 616 9131

email: usa@hielscher.com

web: www.hielscher.com


More from Test & Measurement