Industrial True RMS Clamp Meter has CAT IV safety rating.
Press Release Summary: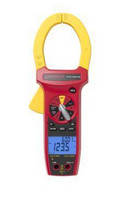 With large jaw to accommodate wide diameter wires, Model ACDC-3400 IND suits industrial applications/utilities that require extra level of safety. Featuring True RMS sensing for accuracy, it measures AC current up to 1,000 ACA, voltage up to 750 Vac/1,000 Vdc, frequency, resistance, capacitance, and duty cycle. Unit has overload protection of 1,000 Vdc or 750 Vac rms. Safety CAT IV 600 V, CAT III 1,000 V rated product operates for 75 hr with carbon-zinc battery and 150 hr with alkaline battery.
---
Original Press Release:

Model: ACDC-3400 IND CAT IV Industrial True RMS Clamp Meter



CAT IV Industrial True RMS Clamp Meter

This CAT IV rated clamp is ideal for industrial applications and utilities that require an extra level of safety. Includes True RMS sensing for accuracy and dependability. Extra large jaw to accommodate wide diameter wires.

o TRMS

o Measures AC Current up to 1000 ACA, Voltage up to 750 VAC / 1000 VDC, Frequency, Resistance and Capacitance and Duty Cycle

o 1000A DC Current

o Peak Hold

o Relative Zero

o Audible continuity

o Auto and manual ranging

o Auto power off

o Data Hold

o Backlight

o Diode Test

o Duty Cycle

o Accommodates conductors up to 2" (51mm) in diameter

o Safety CAT IV 600 V, CAT III 1000 V

o Test leads, battery (installed), Users Manual, and Carrying Case included with the product

Features

Warranty: 1 Year

Battery Life: Typically 75 hours with carbon-zinc; 150 hour with alkaline

Size: 283 x 105 x 50 mm (11.1 x 4 x 2.1 in.)

Weight: 559 gm (1.23 lb.)

Safety: LVD Meets EN61010-1:2001 and EN61010-2-032:2002, CAT III 1000V, CAT IV 600V, class II and pollution degree 2

Instruction Manual: Yes
Detailed Specs: Yes
Hi-Resolution Image: Yes

Specifications

DC Volts Ranges: 660.0 mV, 6.600 V, 66.00 V, 660.0 V, 1000 V

Accuracy: +/- (0.5% rdg + 2 dgts)

Input impedance: 660 mV: >100 MW; 6.6 V:10 MW; 66 V to 1000 V: 9.1 MW

Overload protection: 1000 VDC or 750 VAC rms

AC Volts True RMS Range: 660.0 mV Frequency 50 to 100 Hz

Accuracy: +/- (1.5% rdg + 8 dgts)

AC Volts True RMS Range: 6.600V, 66.00V Frequency 50 to 500 Hz

Accuracy: +/- (1.5% rdg + 8 dgts) AC Volts True RMS Range: 660.0V, 750V Frequency 50 to 500 Hz

Accuracy: +/- (1.5% rdg + 8 dgts)

Frequency (Frequency: 10% to 100% of voltage range): 50 to 1 kHz

Accuracy: +/- (0.1% rdg + 5 dgts)

Jaw opening capability: 57 mm (2.0 in) conductor

Power: Single standard 9-volt battery, NEDA 1604, JIS 006P, IEC 6F22

Auto power off: Approx. 30 minutes

Display: 3" digit liquid crystal display (LCD) (6600 count) with a 66-segment analog bar-graph

Optional Accessories

Part Number: TL1500

Description: Cat IV 1000 V (1500V Max) Test Leads with Alligator Clips

More from Materials