Industrial Trailers offer 20,000-40,000 lb load capacity.
Press Release Summary: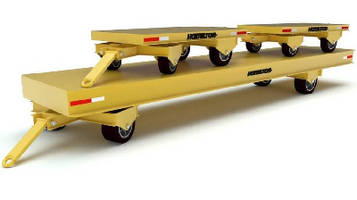 Pre-engineered for quick turnaround, Hercules Industrial Trailers come in 10 standard deck sizes ranging from 4 x 8 ft to 5 x 24 ft. Series is grouped in 20, 25, 30, 35, and 40 K load capacities designed for severe loading and power towing conditions. Fifth wheel steering consists of ¾ in. steel plates sandwiching 24 in. diameter anti-friction disc rotating on 2 in. kingpin. Press-on polyurethane wheels range from 14 in. diameter on 20 K load trailers to 22 in. on 40K load trailers.
---
Original Press Release:
New 20 Ton Industrial Trailers Pre-Engineered for Quick Turnaround
…Hamilton's new line of Hercules trailers is available to ship in 4-5 weeks.     

Hamilton is proud to announce Hercules: the new line of pre-engineered super duty industrial trailers.  The new Hercules line has a load capacity range of 20,000–40,000 lbs. per trailer and is pre-engineered for quick turnaround.  While most high capacity industrial trailers have a minimum leadtime of 7-8 weeks, the Hercules line is available to ship in an industry-leading leadtime of 4-5 weeks.

The Hercules line are fifth-wheel-steer type with a total of ten standard deck sizes starting at 4 feet wide by 8 feet long and ranging up to 5 feet wide by a massive 24 feet long.   The series is also grouped in 20K, 25K, 30K, 35K, and 40K load capacities designed for severe loading and power towing conditions.  Common applications for the Hercules are hauling tooling, dies, molds, structural steel bars, rolls, cylinders, and plate steel efficiently throughout the plant.

Each Hercules deck is constructed of ¼ inch plate steel with structural steel channel ranging from 5 inch on the 20K load trailer to 12 inch on the 40K version.   The fifth wheel steering consists of ¾ inch steel plates sandwiching a 24-inch diameter anti-friction disc rotating on a 2-inch kingpin providing years of trouble-free service with very low turning resistance.

Design engineers selected heavy duty press-on polyurethane wheels ranging from 14" diameter on the 20K load trailers up to 22" diameter on the 40K load trailers.  All wheels are equipped with precision tapered roller bearings and ride on 1-1/2 inch stressproof axles. 

Finally, a major wear point on any towed trailer is the towing loop.  The Hercules features a forged steel loop designed for handling the extreme loads and resistant to wear during years of use.

Visit Hercules product page for additional specs and information.

About Hamilton Caster & Mfg. Co
Founded in 1907, Hamilton Caster is an industry leader in designing and manufacturing stock and custom-engineered heavy duty casters, wheels, carts, and trailers.  Family owned since its inception, the fourth generation remains as committed to quality as the company's founder, John Weigel.

Hamilton Caster & Mfg. Co.
www.HamiltonCaster.com
www.CartsAndTrailers.com
Visit HC Revolution Blog
Toll Free (888) 699-7164
Casters - Wheels - Carts

Media Contact:
Mark Lippert | Vice President of Marketing
Mark.Lippert@HamiltonCaster.com
(513) 454-2642
More from Electrical Equipment & Systems