Industrial Sump Pumps suit solids-handling applications.
Press Release Summary: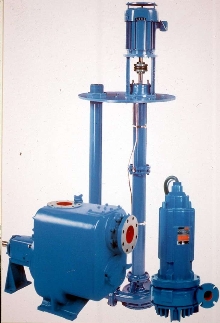 Model 3171 self-priming, vertical wet pit sump and process pump offers sealless construction and is available with recessed impeller. Horizontal, solids-handling unit offers capacities to 3,180 gpm and heads to 344 ft. Trash Hog® solids handling, self-priming pump features non-clog impeller, capacities to 6,000 gpm, and heads to 140 ft. Offered in capacities to 4,000 gpm and heads to 220 ft, electric submersible pumps handle solids and abrasives found in industrial sumps.
---
Original Press Release:
Goulds Offers Complete Range of Industrial Sumps

Seneca Falls, New York, USA - Goulds Pumps, a fluid brand of ITT Industries, offers vertical wet pit, horizontal solids-handling self priming and submersible pumps for industrial sump service. Goulds is your one stop shop for sump pumps.

Vertical Sump

Model 3171 is a sealless, heavy-duty vertical sump and process pump. The self-priming 3171 is capable of handling a multitude of industrial applications including process fluids, industrial sump waste, molten sulfur, tank unloading, and chemical waste control. The sealless construction of the 3171 eliminates stuffing box problems, including expensive and maintenance intensive mechanical seals. The 3171 is also available with a recessed impeller ideal for large solids and shear sensitive fluids. Available in 17 sizes with a wide range of alloys, the 3171 offers capacities to 3180 GPM (722m³/h), heads to 344 feet (105m) and temperatures to 450° F (232°C). The 3171 handles lifts to 20 feet (6m).

Solids Handling Self Priming

Goulds Trash Hog® solids handling, self priming pump features a non-clog impeller, a replaceable wearplate, and large lightweight cleanout covers, top and front. Trash Hog provides a heavy-duty power end which can extend pump life even in the toughest sump services. Optimum hydraulic performance can be renewed easily with an external impeller adjustment design requiring no shims. Trash Hog offers capacities to 6,000 GPM (1363m³/h), heads to 140 feet (43 m) and temperatures to 225°F (107°C). It's available in cast iron, 316 stainless, CD 4Mcu and hardened chrome iron. Sizes range from 3 inches (7.6 cm) to 12 inches (30.5 cm).

Submersible Pumps

With three different models to choose from, Goulds electric submersible pumps are designed specifically to handle the large solids and abrasives found in industrial sumps. They provide superior wear life, performance and reliability. Goulds submersibles are available in a wide variety of materials for capacities to 4,000 GPM (910m³/h), heads to 220 feet (67m), and solids to 6 inches (152mm).

For additional information visit www.gouldspumps.com or call 1-800-734-PUMP.
More from Electrical Equipment & Systems