Industrial-Strength Pressure Sensing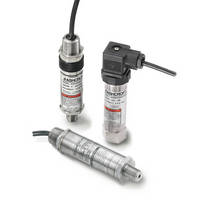 Ashcroft® A2, A2X and A4 pressure transmitters answer the call for an accurate, rugged and reliable heavy duty sensor. Available in accuracies up to +/-0.25%F.S., the A2 is offered with a wide variety of electrical connections, analog output signals and pressure ports to meet the requirements of most any industrial application. The A2X (explosion/flame proof) and A4 (intrinsically safe) configurations are specially designed for hazardous environments.

For more information, please contact the Ashcroft ActionLine® at 800/328-8258 or visit the Ashcroft website at www.ashcroft.com.

More from Test & Measurement