Industrial Steam Boilers suit laboratory applications.
Press Release Summary: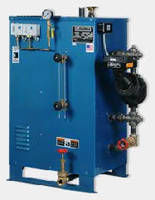 Designed for industrial marketplace, Model ES electrically heated saturated steam boiler suits laboratory, hospital, industrial plant, pilot plant, as well as food and chemical processing applications requiring steam from 0-100 psig. It features automatic pressure and liquid level controllers as well as ASME Code pressure vessel and safety valve. Installation only requires water feed connection and electrical hook-up.
---
Original Press Release:

Boilers with Expanded Industrial Applications



Sussman remains the leader in the manufacture of industrial steam and hot water electric boilers for over 75 years. Sussman Electric boilers include a broad range of applications in all our models. HVAC, direct steam heating, hot water for process and comfort heating, humidification and air-water-oil preheating and booster heating are some of their features. Boiler Model ES is now expanding its industrial market place to include high quality saturated steam boilers for laboratories, hospitals, industrial plants, pilot plants, food and chemical processing applications.


Opening new possibilities this versatile packaged electric steam boiler is perfect for applications requiring steam from 0-100 PSIG. Each unit is complete with automatic features, including pressure and liquid level controllers, ASME Code pressure vessel and safety valve, and are fully tested under power. New enhanced ES Boilers are easy, quick to install and they require only a water feed connection and electrical hook-up. Applications for steam for tanks, reactors, distillations, autoclaves, dyestuffs, food products, cosmetics, paraffins, glues, steam jacketed kettles, sterilizers, cosmetics, pipe tracing, and humidification.

Sussman Electric boilers have been filling your steam and hot water requirements for many years. Sussman steam and hot water boilers for industrial, commercial and specialized uses. From Miniature steam generators rated 3KW - 9PPH to outputs of 5000PPH steam and 9200MBH hot water. Featuring the SSB electric steam boilers all wetted metal parts are stainless steel and passivation standard per QQ-P-35 standard. With a clean steam up to 180kW/550PPH, 100 PSIG, the SSB boiler model also features a 316/316L SS pressure vessel, all wetted metal stainless parts and provides a second low water cut off.

Built to ASME Boiler Codes for Carbon and Stainless Steel constructions. Constructed to UL, CSA, NEC requirements, each boiler is fully efficient, produces no on-site products of combustion and is factory-tested, ready for use. Built & designed in USA. SUSSMAN'S experienced technical capabilities facilitate both domestic and export requirements.

See our speedy request for quote form for fast service. Your specs and application requirements will be handled by our technical team for knowledgeable customer service. Contact Sussman Electric Boilers, 43-20 34th Street, Long Island City, NY 11101. Call Toll Free 1-800-238-3535, or Fax: (718) 937-4676.
Visit Sussman online at www.sussmanboilers.com.

Related