Industrial Sieve Eliminates Debris from Liquid Chocolate and Nut Pastes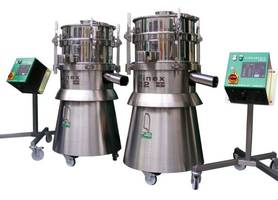 The Finex 22T Sieve delivers high-performance separation of fine food pastes from oversize contamination such as nuts and seeds
Viscous food pastes and liquids such as honey, liquid chocolate and nut pastes and oils must be screened before use in food production. These products can contain oversize particles such as nut solids, shells, agglomerated particles and foreign contamination. With increasing health, safety and quality standards in the food industry, it is vital producers quality-check their incoming ingredients and final products to protect their reputation.
Watch a demonstration video where almond paste is screened using the Finex 22T Sieve. Almond paste, which is used in a variety of bakery, confectionery and health food products, is extremely viscous. Therefore, a high-performance industrial sieving machine is needed to process and sieve the product, separating the fine, smooth nut paste from the oversize nut solids. Once screened, the paste can be used in food production.
The versatile Finex 22T Sieve is capable of safety screening as well as accurate grading of powders, granules and high-viscosity liquids. These vibrating screeners are fully portable, allowing one unit to be used for various applications throughout a food production line, and quick tool-free disassembly reduces changeover and cleaning times and production downtime.
Russell Finex has more than 80 years of experience providing high-quality separation equipment for wet or dry food applications.
To watch the video or to find out more, visit: http://www.russellfinex.com/en/contact-russell-finex/