Equipment / Storage / Utility Shelters
Industrial Shelters protect outdoor equipment.
Press Release Summary: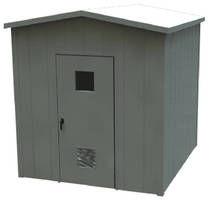 Built with corrosion-resistant fiberglass reinforced plastic, pre-engineered and pre-wired Guardian Shelters provide durable and long-lasting (25 year minimum) housing for protection of outdoor equipment. Each is designed with reinforced walls and features 135 MPH wind rating, 40 psf snow load rating, and R7 insulation factor. Shipped complete and ready for use, shelters aid in storage/protection of instruments, pumps, blowers, generators, chemical feeders, and telecom equipment.
---
Original Press Release:

Plasti-Fab Launches Guardian Industrial Shelter Line



Tualatin, OR, August 18th, 2009 - Plasti-Fab, the manufacturer of world class composite solutions, has officially launched their new line of Guardian Shelters in conjunction with their corresponding web site www.industrialshelters.com, solely dedicated to customizing and purchasing the shelters online.

The Guardian Shelters are pre-engineered, pre-wired, and built with Plasti-Fab's recognized corrosion resistant Fiberglass Reinforced Plastic (FRP), providing, durable, economical, and long-lasting housing for protection of outdoor equipment. They are designed with reinforced walls and have a 25 year guarantee for protection against the severe elements, including 135 MPH winds, 40PSF snow loading, and R7 insulation factor. As a unique benefit, the shelters are shipped complete and ready for use. Examples of typical applications include instruments, pumps, blowers, generators, chemical feeders and telecommunications equipment.

The new website offers immediate pricing for all models and a simple, user-friendly interface for customizing any of the 11 different sizes to fit your specific needs. Upgrades and additional design features are also available.

"It is extremely exciting for the Plasti-Fab family," says Ron Schneberger, International markets and contract manufacturing manager, "to see the research, engineering, and design that went into our industrial shelter line have a tangible influence on both the evolution of the company and development of the composites solution industry."

For 40 years now, Plasti-Fab has been developing innovative corrosion resistant equipment (http://plasti-fab.com/wastewater-products) out of their facility in Tualatin, Oregon. Over that time, the company has evolved and expanded their composites expertise into contract manufacturing (http://www.plasti-fab.com/contract-manufacturing) for industry applications and are a recognized visionary company for fiberglass reinforced plastic (FRP). This evolution has allowed Plasti-Fab to bring their experience to new industries, a second location in Lakeland, Florida, and new products, including the new Guardian Shelter Line.

About Plasti-Fab
Plasti-Fab is a world class composite products manufacturer focused on flexible manufacturing that solves customer's needs. For over 40 years they have produced engineered products designed to meet specific application requirements. Plasti-Fab serves the global marketplace from their facilities in Tualatin, Oregon and Lakeland, Florida, as a service-oriented organization with the experience necessary to recommend workable equipment and installation modifications when required.

To learn more and find out everything Plasti-Fab offers, visit: (http://www.plasti-fab.com)

More from Test & Measurement