Industrial Server offers remote management features.
Press Release Summary: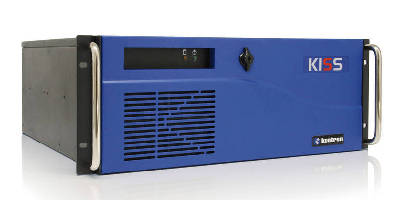 Based on KTQ45/ATXE motherboard, KISS 4U KTQ45 is equipped with Intel Core2 Quad processor Q9400, Intel 82Q45 Graphics and Memory Controller Hub, and Intel I/O Controller Hub 10, accelerating compute-intensive embedded applications. Unit features 1.333 MHz FSB and up to 8 GB DDR3 SDRAM. Offering remote access via Intel AMT 5.0, server includes Intel Trusted Platform Module for secure hardware encryption of all transferred data and Kontron PC Condition Monitoring for remote monitoring.
---
Original Press Release:

Kontron's Long-Term Available Industrial Server KISS 4U KTQ45



Kontron's long-term available industrial server KISS 4U KTQ45 offers comprehensive remote management features

The ideal virtualization platform for industrial applications

Eching, Germany, October 14, 2009 - Kontron's new, long-term available industrial server Kontron KISS4U KTQ45 offers highest level data processing for industrial applications thanks to its attractive Intel Core2 Quad processor Q9400 performance and wide range of management features. Equipped with Intel AMT 5.0 for remote maintenance, Kontron PC Condition Monitoring (PCCM) for remote monitoring and an Intel Trusted Platform Module for the highest level of data security, the high-end industrial server is the ideal virtualization platform with long-term availability for the most demanding industrial applications.

Kontron's latest high-performance industrial server is based on Kontron's own embedded ATX motherboard Kontron KTQ45/ATXE with Intel 82Q45 Graphics and Memory Controller Hub along with the Intel I/O Controller Hub 10 (Intel ICH10DO). With a front-side bus of up to 1.333 MHz and up to 8 GByte DDR3 SDRAM, the Kontron KISS 4U KTQ45 accelerates computing intensive embedded applications such as test and measurement, image processing, process control and video surveillance in i.e. energy, medical, automation or transportation market segments.

Thanks to its remote access functionality via Intel AMT 5.0, the Kontron KISS 4U KTQ45 enables simplified remote maintenance for higher system availability while keeping total costs down. The Intel Trusted Platform Module (TPM 1.2) offers secure hardware encryption of all transferred data and with Kontron's PC Condition Monitoring solution (Kontron PCCM) preventive servicing can take place on an "on-demand" basis. Typical for the server range, the KISS server is equipped with an 80+ class 500 watt power supply unit, which can also be implemented as a redundant PSU.

The Kontron KISS 4U KTQ45 paves the way for a wide range of extensions, thanks to 1x PCI Express x16 (PEG), 1x PCI Express x4 and 4 x PCI. Additionally, there are 2 x Gigabit Ethernet, 10 x USB 2.0 (2 on the front) and 2 x COM (RS232). Data media can be hooked up via 4 x SATA connections with onboard RAID 0/1/5/10 functionality. Three 5.25" slots which can be accessed externally and two 3.5" slots plus a slimbay slot offer enough space for shock proof stored hard disks, CD/DVD drives or the optional Kontron KISS Stor hard disk subsystem with RAID 1 or 0/5. In addition there is also a 3.5" slot available. Graphic intensive applications profit from the serial digital video interface for DVI, HDMI and DisplayPort via the PCI Express x16 Slot. The VGA connection supports resolutions of up to QXGA (2048 x 1536). 7.1 HD audio and separate PS/2 ports for mouse and keyboard round off the interface feature set.

The Kontron KISS 4U KTQ45 which has been designed for non-stop operation (MTBF 50,000 h) is CE certified and is UL qualified. It supports Linux and the complete Windows desktop and server range including the new Windows 7 and is available direct from the warehouse as standard configurable system or can be customized further as needed and delivered as tested and independently certified solution. The new Kontron KISS 4U KTQ45 is available in EMEA now and it will be available in North America and APAC late this year.

For further information on the Kontron KISS 4U KTQ45 visit: www.kontron.com/products/systems+and+platforms/industrial+pc++rackmount/4u/kiss+4u+ktq45.html

For further information on the Kontron KISS industrial server family visit: www.kontron.com/KISS

About Kontron

Kontron designs and manufactures embedded and communications standards-based, rugged COTS and custom solutions for OEMs, systems integrators, and application providers in a variety of markets. Kontron engineering and manufacturing facilities, located throughout Europe, North America, and Asia-Pacific, work together with streamlined global sales and support services to help customers reduce their time-to-market and gain a competitive advantage. Kontron's diverse product portfolio includes: boards & mezzanines, Computer-on-Modules, HMIs & displays, systems & platforms, and rugged & custom capabilities. Kontron is a Premier member of the Intel Embedded and Communications Alliance and has been a VDC Platinum Vendor for Embedded Computer Boards 5 years running. Kontron is listed on the German TecDAX stock exchange under the symbol "KBC". For more information, please visit: www.kontron.com

EMEA

Norbert Hauser

Kontron

Tel: +49 (8341) 803-0

norbert.hauser@kontron.com

Americas

Richard Pugnier

Kontron

Tel:+1 (858) 623-3006

richard.pugnier@us.kontron.com

APAC

Tom Meyer

Kontron

Tel: +86 (10) 6375 1188 ext 233

tom.meyer@kontron.com

All rights reserved.

Kontron is a trademark or registered trademark of Kontron AG.

Intel and Intel Core are trademarks of Intel Corporation in the US and other countries.

All other brand or product names are trademarks or registered trademarks or copyrights by their respective owners and are recognized.

More from Electronic Components & Devices