Industrial Server leverages up to 2 Intel® Xeon(TM) CPUs.
Press Release Summary: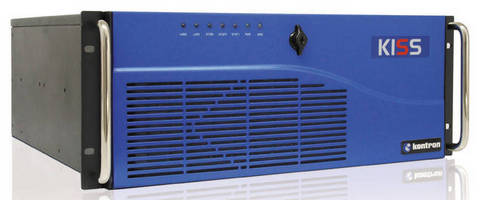 Kontron Industrial Silent Server KISS 4U KTC5520 integrates Extended ATX motherboard and supports Intel® Xeon(TM) 5500/5600 Series CPUs, with up to 12 processing cores designed with 32 nm technology. Able to operate in temperatures from 0 to +50°C and humidity from 10-95%, IP20-protected server supports remote management and up to 48 GB DDR3 ECC registered SDRAM per CPU. Product offers diverse expansion and connectivity support as well as capabilities to serve graphics-intensive applications.
---
Original Press Release:

Kontron Announces Industrial Server with the Latest Dual Intel® Xeon(TM) Performance



Kontron Industrial Silent Server KISS 4U KTC5520 brings latest dual Intel® Xeon(TM) performance to extended environmental conditions

Extended ATX-based industrial server is the fastest KISS server ever

Eching, Germany - Kontron's first industrial server offering a feature-rich integrated Extended ATX motherboard, the Kontron Industrial Silent Server KISS 4U KTC5520, is a highly robust and long-term available open standard platform, offering up to dual Intel® Xeon(TM) 5600 Series processors. Up to 12 processing cores designed with new 32 nm technology offer high performance density and make it a perfect fit for virtualization functionality, allowing formerly separate apps to be moved onto a single, cost-effective system.

Compared to conventional servers, a unique feature of the Kontron Industrial Silent Server KISS 4U KTC5520 is its ability to operate in harsh environmental conditions. It features an operating temperature range of 0° to 50°C, an operating humidity range of 10-95%, all-around IP 20 protection (optionally upgradeable to IP 52 at the front), and high shock and vibration protection, which makes the server perfect for applications where more ruggedized systems are necessary. Data center managers and OEMs will benefit from the Kontron KISS 4U KTC5520's high quality design, manufacturing, high MTBF classification, and manageability, all contributing to lower total cost of ownership. Standard applications for the rugged and extremely silent embedded server include medical, industrial imaging and military applications, as well as high end audio processing, storage, and simulation applications.

Network managers benefit from the server board's built-in ability to be fully remotely managed, which contributes to high system availability and convenient service. The Integrated Management Processor (IMP) offers VGA/2D, BMC, and KVM/VM over IP (iKVM) to support real-time access with full control by keyboard, video monitor and mouse (KVM) and virtual media (VM) by a single local computer from anywhere, at any time. IPMI 2.0 compliant using IPMI over LAN, the server board provides the OS-independent and cross-platform interface for monitoring the server system's temperature, voltage, and fan status, among other items, and permits out-of-band management even when the main processors are not powered-on. Additionally, three hot-swappable chassis fans on the front of the unit make for easy maintainability.

The feature set in detail:

The Kontron Industrial Silent Server KISS 4U KTC5520 is available with up to two Intel® Xeon(TM) (5500 or 5600) series processors and up to 48 GB DDR3 ECC registered SDRAM per processor. The new Kontron server paves the way for a wide range of extensions, thanks to 1x PCI Express x16 (PEG) (configurable as 1x PCI Express x8), 3 PCIe 2.0 x8, 1 PCIe x4 (using x8 slot), and 1 x PCI. Additionally, there are 2 x Gigabit Ethernet, 6 x USB 2.0 (2 on the front) and 1 x COM (RS232).

Data media can be hooked up via 6 x SATA connections with onboard RAID 0/1/5/10 functionality. Two 5.25" slots, one slimbay slot (both externally accessible) and one 3.5" slot offer enough space for shock-proof stored hard disks, CD/DVD drives or the optional Kontron KISS Stor hard disk subsystem with RAID 1 or 0/5. Graphic intensive applications benefit from the serial digital video interface for DVI, HDMI and DisplayPort via the PCI Express x16 Slot. An optional 256 MB GeForce 8500GT is available for graphics processing duties. 7.1 HD audio and separate PS/2 ports for mouse and keyboard round out the interface feature set.

The Kontron Industrial Silent Server KISS 4U KTC5520 is CE certified and UL qualified. It supports Red Hat Linux and Windows Server 2008 and is available direct from the warehouse as a standard configurable system or can be customized further as needed and delivered as a fully tested and independently certified solution. The Kontron KISS 4U KTC5520 is available now in EMEA and will be available in the Americas and APAC beginning in September.

For more information on the Kontron Industrial Silent Server KISS 4U KTC5520, please visit: www.kontron.com/products/systems+and+platforms/industrial+pc++rackmount/4u/kiss+4u+ktc5520.html

For more information on the Kontron Industrial Silent Server KISS product range, please visit: www.kontron.com/KISS

About Kontron
Kontron, the global leader of embedded computing technology, designs and manufactures embedded and communications standards-based, rugged COTS and custom solutions for OEMs, systems integrators, and application providers in a variety of markets. Kontron engineering and manufacturing facilities, located throughout Europe, North America, and Asia-Pacific, work together with streamlined global sales and support services to help customers reduce their time-to-market and gain a competitive advantage. Kontron's diverse product portfolio includes: boards & mezzanines, Computer-on-Modules, HMIs & displays, systems & platforms, and rugged & custom capabilities. Kontron is a Premier member of the Intel® Embedded Alliance and has been a VDC Platinum Vendor for Embedded Computer Boards 5 years running. Kontron is listed on the German TecDAX stock exchange under the symbol "KBC". For more information, please visit: www.kontron.com

Contact Details

Richard Pugnier
Kontron
Tel:+1 (858) 623-3006
richard.pugnier@us.kontron.com

Annette Keller
Keller Communications
Tel:+1 (949) 640-4811
annettekeller@sbcglobal.net

All rights reserved.

Kontron is a trademark or registered trademark of Kontron AG.

Intel and Intel Xeon are trademarks of Intel Corporation in the US and other countries.

All other brand or product names are trademarks or registered trademarks or copyrights by their respective owners and are recognized.

More from Materials