Industrial PoE Switch suits surveillance applications.
Press Release Summary: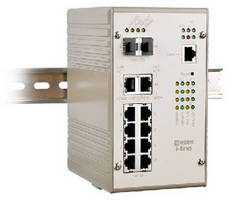 Equipped with 8 PoE/PoE+ ports, each capable of delivering 30 W, PMI-110-F2G Layer 2 Industrial Managed Ethernet Switch can power standard cameras as well as PTZ cameras, wireless access points, and WiMax systems. PoE function includes advanced features such as smart power budget control, end device status monitoring, and calendar based on/off scheduling. Two Gigabit RJ45/SFP combo uplink ports provide flexible high-speed uplink for con­nection to backbone switches.
---
Original Press Release:

Managed Industrial PoE Switch for Infrastructure Applications



Compact and robust industrial device delivering savings on cable installation costs



Westermo is pleased to announce the PMI-110-F2G, a new layer 2 industrial managed Ethernet switch with Power over Ethernet (PoE) and gigabit capability. The PMI-110-F2G is especially developed for surveillance applications in environments such as industrial automation, machine building and building automation where cost savings can be delivered when the power cabling is made unnecessary by PoE. The device guarantees quality and reliability by incorporating advanced network management, security protocols and resilience features.



With a compact and robust design, no moving parts, an operating temperature range from -40°C to + 70°C and compliancy with industrial EMC requirements, the PMI is suitable for mounting into industrial cabinets in tough industrial and outdoor applications. In these locations the robust DIN rail mounting clip and the compact size makes the installation simple and fast, which contributes to easier maintenance and reduced cost in the long term.



The PMI-110-F2G has 8 PoE/PoE+ ports each  capable of delivering 30W of power , which enables the PMI-110-F2G to be used for powering both standard cameras as well as end devices with higher power needs, such as PTZ cameras, wireless access points and WiMax systems. The PoE function includes advanced features like smart power budget control, end device status monitoring and calendar based on/off scheduling.



In addition to the 8 PoE/PoE+ ports the PMI is equipped with 2 Gigabit RJ45/SFP combo uplink ports to provide a flexible high speed uplink for con­nection to backbone switches, which enables high data rate video streams over long distances.



The design and features of the PMI-110-F2G makes it perfectly suited for critical applications such as real time camera surveillance networks, where equipment needs to guarantee high performance at all times.



Additional information

Mats Myhr, Product Manager

Phone         +46 72 510 24 72

E-Mail        mats.myhr@westermo.com



Press contact

Magnus Jansson

Phone         +46 16 428 042

E-Mail        magnus.jansson@westermo.com



Westermo provides a full range of industrial data communications solutions for demanding applications in the transport, water and energy markets among others. For more than 35 years Westermo has been at the forefront of technological development and often pushed the limits of what is technically possible. In order to provide the best possible support, we have local presence in more than 35 countries through our authorized distributors and own offices. Since 2008 Westermo has been part of the Beijer Electronics Group, a fast growing technology company with extensive experience of industrial automation, developing and marketing competitive products and solutions with focus on the user.



PMI-110-F2G Product page:

http://www.westermo.com/web/web_en_idc_com.nsf/AllDocuments/A62E3EE02F7465FDC1257D0B003CA884



Emma Johansson

Market Communications

Westermo Teleindustri AB

SE-640 40  Stora Sundby

Phone: +46 16 42 80 19 Mobile:

 Web: www.westermo.com

E-mail: emma.johansson@westermo.com

More from Fluid & Gas Flow Equipment