Industrial PoE Switch operates in -10 to +60°C temperatures.
Press Release Summary: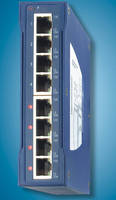 Designed for rugged industrial environment, unmanaged SPIDER II 8TX Hirschmann(TM) switch features internal PoE power supply to generate IEEE 802.3af-compatible 48 Vdc PoE directly from 24 Vdc supply while also providing galvanic insulation. Four-port switch has IP30 certified top-hat rail-mount metal housing and provides network-compatible devices with up to 15.4 W of power (12.95 W on terminal side) by means of Phantom Power Method.
---
Original Press Release:

More Ease and Flexibility in the Planning of Data Networks



At the SPS/IPC/DRIVES Show Belden will Introduce the New Low-Cost Hirschmann(TM) Switch with PoE

Belden has expanded the portfolio of its Hirschmann(TM) SPIDER products family with a low-cost switch including Power-over-Ethernet (PoE) functionality. The new low-cost HIrschmann(TM) switch with PoE will be introduced at SPS/IPC/DRIVES in Nürnberg, Hall 10, Stand10-120.

The unmanaged SPIDER II 8TX PoE features an internal PoE power supply which generates the 48VDC PoE voltage directly from its 24VDC voltage supply. At the same time it provides the galvanic insulation as required by the regulations. Network-compatible devices can be supplied by the switch with power straight through the data cable, which eliminates the need for separate power supply lines. In this way, data networks can be planned with greater ease and flexibility. Even when used in difficult access points, PoE terminal equipment no longer requires a separate power supply.

As stated by Pascal Unterdorfer, Poduct Manager: "The four PoE ports of the switch are fully compatible with the IEEE 802.3af standard and can supply network-compatible end user devices - such as IP phones, small hubs, cameras or wireless transmission devices, like WLAN and Bluetooth access points - with up to 15.4W of power (12.95W on the terminal side) by means of the Phantom Power Method."

"The switch has a top-hat rail-mount metal housing according to protection category IP30. It can be operated within a wide temperature range from -10°C to +60°C and has its own internal PoE voltage transformation, which makes it ideal for use in a rugged industrial environment."

About Belden

Belden designs, manufactures and markets signal transmission solutions, including cables, connectors and I/O modules as well as network devices and control, load sensing and load moment limitation systems designed for safety-critical applications ranging from industrial automation to data centers, broadcast studios and the aviation and aerospace industry. The company focuses on segments of the worldwide cable and automation markets that require both highly specialized and readily available products. With manufacturing facilities in North America, Europe and Asia, Belden has recorded a total revenue of USD 2 billion for the fiscal year 2008.

Together with its brands Hirschmann(TM) and Lumberg Automation(TM), Belden offers an extensive and highly specialized product portfolio covering the full range of data communications - from the information and control levels down to the field level. The company has more than 15 offices throughout Europe, the Middle East and Africa, with manufacturing facilities in Czech Republic, Germany, the Netherlands, UK, Denmark, Italy and Hungary.


Related