Industrial / Specific Purpose Computers
Industrial PC with Integrated DVD Burner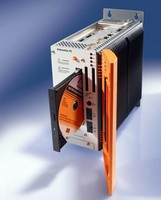 Because of the continually increasing amount of data that must be stored for a production process, CD burners are now at their limits. B&R now offers a DVD burner for the Automation PC 620 and also for the Panel PC 700.

Industrial PCs customized for the application - that's the philosophy of the APC620 and PPC700 industrial PCs from B&R. The modular concept allows for the subsequent integration of a DVD burner, for example in place of a CD burner. From the beginning, the PC systems were designed so that the user can easily install or exchange the drives.

The DVD burner reads and writes all standard CD and DVD formats (CD-R, CD-RW, DVD-R, DVD-RW, DVD+R, DVD+RW).

B&R develops their industrial PCs in-house. The APC620s rely on the experience collected over many years of PC development. The goal was to create an innovative industrial PC system for machine and system manufacturers with maximum investment security. For this reason, B&R places special emphasis on long-term availability when choosing which components to use. The mechanical design is based on the results of extensive shock and vibration tests that place the highest demands on the materials. A high level of operational security is also achieved by doing away with cable connections for PC components, securely fastening circuit boards and the possibility to use mass memory without rotating parts (CompactFlash).

More from Thermal & Heating Equipment