Industrial / Specific Purpose Computers
Industrial PC is suited for complex automation tasks.
Press Release Summary: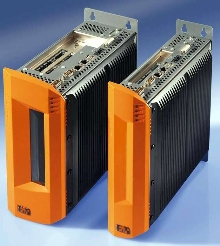 Usable as central PC-based control unit or in system based on networked controllers, APC620 has modular design combining open system functionality with full integration in automation system. It is available with Intel® Pentium M processor or Intel 815E chipset, which does not require fan. Expansion options include 1, 2, or 4 PCI slots; Compact Flash slot; and up to 2 slots for drives. Device interfaces are located on top side of housing to minimize unit depth.
---
Original Press Release:

APC 620 - Pentium M Class Automation PC


Power in Modular Form

The APC620 Automation PC combines all the advantages of an open system with full integration in an automation system. Whether it's used as a central PC-based control unit or as a higher-level system based on networked controllers, its modular design allows for unlimited flexibility and several possible configurations. This sleek new industrial PC was introduced to the market especially for complex automation tasks.

Two chipset versions

The Automation PC APC620 is available with two chipset versions. The APC620 with an Intel Pentium M processor is available for high-performance applications that require a powerful processor. This processor, which has been specially developed for mobile computing, also meets a key demand of industrial use: combining high processing performance with low power consumption. The second variation of the APC620 covers performance needs ranging from Celeron® 400 MHz to 1 GHz. This is where the Intel® 815E chipset comes into play. These devices don't require a fan.

Modularity

1, 2, or 4 PCI slots provide up to three housing variations. The rest of the components are also highly modular: a Compact Flash slot is always provided on the base system and can be supplemented with another Compact Flash or a hard disk. There are up to two slots provided for other drives as well. These include CD-ROM, DVD-ROM/CD-RW, floppy disk, or hard disk devices.

Compact construction

The APC620 is designed to take up the least amount of space in the switching cabinet. On its front, a cover conceals the interfaces for drives as well as the Compact Flash slot. Very early in the development phase, B&R decided to use this type of mass memory since it doesn't have any rotating parts and because it can also last a long time in rough industrial environments with an extremely high level of reliability. All of the device's connections and interfaces are located on the top side of its housing so that they do not protrude and increase the installation depth. A heat sink is also mounted on the side.

The flexible Automation Panel display unit

In addition to the APC620 Automation PC, B&R is also offering a new series of display units under the name "Automation Panel". These devices are equipped with a remarkable feature: a linking component which allows the Automation Panel to be adapted to various transfer technologies extremely easily.

Both these linking components and the Automation Panels themselves support USB. When using DVI Link, USB is channeled along a separate cable since it's not included in the DVI standard. The short-distance link (with a transfer distance of up to 15 meters) and the long-distance link (up to 40 meters) fully integrate USB. To make connecting USB peripheral devices as convenient as possible, all Automation Panel devices have two USB interface on the back side along with a USB interface on the front side underneath a cover (with IP65 protection).

Robust aluminum fronts, IP65 protection, and a matter-of-fact design allow this device to be used in any industrial system and machine environment. The Automation Panel's numerous variations can meet any individual demands regarding user guidance. The 10.4", 15", 17", and 19" displays are available with touch screens, fixed function keys, or a combination of both.