Industrial PC is designed for use at machine level.
Press Release Summary: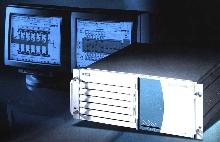 SIMATIC Rack PC 840 is 19 in. rack mountable with separate display/monitor for HMI tasks. PC features Celeron or Pentium III processors, 20 to 40 GB hard disks and 10 vacant ISA and PCI expansion slots. Memory is expandable to 512 MB. Integrated 16 MB AGP graphics board supports use with distributed monitors/displays. Integrated 10/100 MB Ethernet, 5g shock resistance, USB and serial/parallel interfaces and 5 to 55°C operation are standard.
---
Original Press Release:
Siemens Introduces Rugged Built-In PC For Use At Machine Level

ALPHARETTA, Ga., Nov. 7, 2001 - Siemens Energy & Automation, Inc., today introduced a highly scalable, rugged industrial PC for installation at the machine level.

The new SIMATIC Rack PC 840 is suited for installation in 19-inch rack mounting consoles with a separate display/monitor for HMI (Human Machine Interface) tasks as well as data acquisition and processing and PC-based control. The Rack PC 840 comes in an all-metal housing for reliable operation at temperatures ranging from 5 to 55°C and with a shock resistance of up to 5g. Typical applications for the device are measuring, open and closed-loop control tasks.

The new PC can be equipped with a variety of processors, RAM capacities, drive configurations, power supplies and preinstalled operating systems to fit most applications. It features a choice of either Celeron or Pentium III processors, 20 to 40 GB hard disks and 10 vacant ISA and PCI slots for expansion boards. The main memory can be expanded to 512 MB. An integrated 16 MB AGP graphics board supports operation with distributed monitors and displays. Standard features include integrated 10/100 MB Ethernet, USB (universal serial bus) and serial/parallel interfaces. An optional 12-megabit/s PROFIBUS interface is also available.

The rugged design of the new Rack PC delivers guaranteed performance in harsh environments with an optional shock- and vibration-dampening hard disk holder, a special retainer for expansion boards, and temperature-controlled fans. Reinforced gold-coated PC interfaces ensure reliable contact for potentially corrosive environments.

The wide range of the 110/230 V AC power supply bridges brief power failures of up to 20 milliseconds according to NAMUR recommendations. Numerous front-panel status LEDs and integrated monitoring functions - for internal temperature (safecard) and program execution (watchdog) - allow users to detect and correct errors early.

The Rack PC's design makes it maintenance- and service-friendly. PC components such as expansion boards, processor, memory modules or the power supply are easily accessible and can be replaced quickly. Air filters and fans can be exchanged from the front of the PC without tools.

Related