Industrial Paper Shredders Handle Extreme High Volumes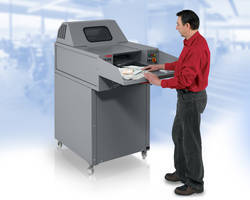 Wabash, IN — Intimus' line of industrial paper shredders offers businesses an alternative to outsourced shredding services. In-house destruction provides the security benefit of sensitive data never leaving the building. It also allows for immediate document destruction versus collecting and staging items in bins and barrels. This has become an increasing concern during the COVID-19 pandemic where many facilities have limited building access to employees only.
Ten industrial shredder models are available to satisfy the destruction requirements of a wide range of businesses that generate high volumes of sensitive documents including banks, insurance companies, law firms, healthcare facilities, pharmaceutical manufacturers and more. All units reduce paper to small, cross-cut particles which combined with high volume bin capacities (up to 120 gallons) make reconstruction virtually impossible. Sheet feed capacities range from up to 70 per pass to as many as 520 per pass or 1,250 lbs. per hour. Larger models also feature a sortation table to facilitate document and feeding as well as an infeed conveyor that ensures items are fed at the correct rate for optimum performance and productivity.
A baler option can also be added to some shredders allowing them to compact shredded waste into neat, tightly packed bales for easy storage prior to disposal and improved housekeeping.
In addition to flat sheets, all Intimus industrial shredders also accept balled or crumpled paper as well as paper clips and a variety of other items including floppy disks, CDs and DVDs, ID badges, and plastic credit cards.
Although classified as industrial shredders these machines are suitable for use in office environments too. They operate at about 63 dBA which is quieter than most household vacuum cleaners.
For more information, contact Tyler Page, Intimus International, 251 Wedcor Avenue, Wabash, IN 46992, TEL: (800) 775-2122, www.intimus.com.
For:
Intimus International
251 Wedcor Avenue
Wabash, IN 46992
Contact:
Tyler Page
Tel: (800) 775-2122
From:
Norris & Company
198 South Meadow Road
Plymouth, MA 02360
Contact:
James T. Norris, President
Tel: (508) 510-5626
More from Electrical Equipment & Systems