Industrial Panel PCs operate in hazardous areas.
Press Release Summary: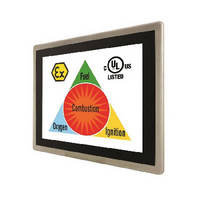 Engineered for oil and gas pipeline applications, Industrial Panel PCs are intrinsically safe, non-incendive, non-sparking, and hermetically sealed. Stainless steel touchscreen HMIs enable safe control, management, handling, and transportation of hazardous liquids and gases. Operating from -4 to 140°F, explosion proof remote panels can display information on pressures, flow rates, alarm set points, and valve position scripts, minimizing exposure of personnel to potentially hazardous areas.
---
Original Press Release:

Hazardous Areas Industrial Panel PCs Equipped by AIS with International Safety Standards and Protection Techniques for Oil and Gas Transportation



Intrinsic Safety, Non-incendive, Non-sparking, and Hermetical-sealed Operator Control Panel Computers for Field Control Rooms and Safe Transport of Hazardous Liquids



IRVINE, CALIFORNIA – American Industrial Systems, Inc. (AIS), the designer and manufacturer of hazardous area HMIs for oil and gas transportation and pipeline safety applications, has introduced new rugged, Industrial Panel PCs for this market. Used for remote monitoring, local and in the field control room, these new explosion proof Human Machine Interfaces (HMIs) from AIS are specifically engineered for operation in oil and gas pipeline and monitoring applications for safe control, management, handling and transportation of hazardous liquids and gases.



The Need for Explosion-Proof AIS HMIs for the Immense Oil & Gas Transportation Market

With nearly two thirds of all energy supplies transported domestically via pipelines and an infrastructure comprised of hundreds of thousands of miles of pipelines for hazardous liquids, gas transmission and distribution pipelines in the United States, the need for control, visualization and monitoring capabilities that AIS HMI touch-screens offer is essential for safe and efficient operation.  In accordance with regulation 49 CFR 195.446 established by the U.S. Department of Transportation (DOT) Pipeline and Hazardous Materials Safety Administration (PHMSA), the new touch-screen HMI from AIS facilitates safe control room management, local and remote monitoring. The regulation defines the minimum requirements for Supervisory Control and Data Acquisition (SCADA) or field HMI systems used for pipeline monitoring and transportation and enhance pipeline safety for operators.



Driving Operational Efficiency & Results with Empowered Controllers (Operators)

System controllers or operators for hazardous liquids and gas pipelines use computer-based equipment such as an AIS HMIs and SCADA control systems to record and display operational information about the pipeline system. AIS remote HMI panels display information on pressures, flow rates, alarm set points, valve positions scripts, security, web-based remote control and more. AIS web-based, Panel PCs are more than tools used by controllers to operate pipeline equipment or dispatch personnel to field equipment. They are designed to empower operators with safe and powerful control and monitoring capabilities.  Some key benefits include:

• Reduced onsite personnel requirement as a result of remote diagnostics

• Efficient equipment adjustment , control and monitoring

• Intuitive, easy-to-use HMIs promote controllers/operators output and productivity



A Safer Work Environment and Less Controller Fatigue Leads To Higher Operational Productivity

Approved for ISA12.12.01/CSA 213: Non-incendive, Non-sparking, and Hermetical-sealed, IEC/UL/CSA 60079-11: Intrinsic Safety "ic" (Gc), IEC/UL/CSA 60079-15, including many other certifications for fire and explosion protection,  AIS hazardous areas HMIs ensure the ultimate in safety for transportation of hazardous liquids and gases.  AIS industrial operator control panels with UL and ATEX certifications for hazardous areas (Class 1 Div 2, Zone 2), with either a local console or a standard remote HMI near the pipeline include these additional key benefits:



• Improved controller/operator safety from remote control and detection of equipment failure

• Minimized exposure of personnel to  potentially hazardous areas through remote monitoring

• Increased productivity and less fatigue resulting from a safer, more efficient work flow



Lowering Total Cost of Ownership and Shortening Time to Market

Oil and gas pipeline operators struggle with the optimum time frame to upgrade or replace control systems. Obsolete parts, higher maintenance costs and increased downtime are key drivers. While HMIs generally require earlier replacement than control systems due to exposure to harsh elements and weather conditions, AIS rugged HMIs and Industrial Panel PCs are designed to endure extreme temperature ranges from 20 to 60°C (-4 to 140°F) and are built with stainless steel, type 4/4X, IP 65/66, NEMA 4/4X enclosures with environmental ratings (UL 50 or IEC 529) on the entire system including fully sealed ports.



Business justification for applying hazardous areas field HMI systems and control systems to their pipeline operations is a consideration as well. Regardless of application or use, AIS HMI solutions deliver persuasive cost justification for control room monitoring and pipeline applications via combination of reduced costs and significant operational improvements.  Reducing size, weight and power (SWaP) design principles combined with unique feature set, AIS Intrinsically Safe and Explosion Proof Panel PCs can be used directly in Class 1 Division 2, Zone 2 without the need for special measures such as complex and expensive enclosures or additional certification processes.



AIS is the Leader in Hazardous Liquids and Gas Pipeline Transportation Control and Monitoring Solutions

As the leader in oil and gas transportation visualization and monitoring solutions, AIS has been providing hazardous areas HMI solutions to top oil and equipment services companies in the petrochemical industry for almost the past decade.  Some customers include Baker Hughes, Cameron, Sunoco, Invensys and other leaders in the oil and gas industry.



About AIS

Headquartered in Irvine, California, USA, American Industrial Systems, Inc. (AIS) offers in-house electronic and mechanical design, software development, manufacturing, production and quality control services. Offering one of the widest ranges of Industrial Computing solutions, AIS solutions are available in a multitude of configurations for Industrial, Oil & Gas, Military and Marine applications. The company is fully committed to empowering, improving and delivering turnkey HMI, monitoring and display solutions for OEM, ODM and end-user customers. AIS is an ISO 9001:2008 certified supplier and manufacturer of rugged computers and displays, and received completion of the International Traffic in Arms Regulations (ITAR) registration from the Directorate of Defense Trade Controls (DDTC). For more information, visit: www.aispro.com, email: sales@aispro.com or contact: 1-888-485-6688.



Media Relations Contact:

American Industrial Systems, Inc.

Santiago Consunji

Business Development and Marketing Manager

949-681-7463

santiago.consunji@aispro.com

More from Non-Industrial Products