Industrial Monitors and Displays suit hazardous locations.
Press Release Summary: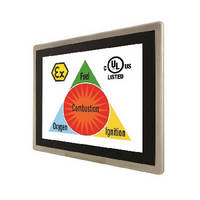 Non-incendive, intrinsically safe, and explosion proof, 15 in. Stainless Steel Monitors and Industrial Multi-Touch Displays are designed for oil/gas, refineries, chemical processing, and industrial plants. ATEX-certified units have sealed, stainless steel IP 65/66, NEMA 4/4X enclosure with UL 50 or IEC 529 environmental ratings. Equipped with industrial-grade LCD flat touchscreen panels, hermetically sealed products operate from -4 to 140°F and can be used directly in Class I Division 2, Zone 2.
---
Original Press Release:

AIS Introduces UL Class I Division 2, ATEX Zone 2 Industrial Monitors and Multi Touch Displays for Hazardous Locations in Petroleum Industry



Intrinsically Safe, 15" Stainless Steel Monitor for Hazardous Zone 2 Areas without the Need for Expensive Safety Measures or Additional Certifications



IRVINE, CALIFORNIA  - American Industrial Systems, Inc. (AIS) expands its Intrinsically Safe Technology offering of HMI, control and monitoring solutions designed specifically for Oil & Gas, Refineries, Chemical Processing and Industrial Plants with the introduction of its new Stainless Steel Monitors and Industrial Multi-Touch Displays. The new 15" flat panel industrial monitor from AIS is Non-Incendive (NI), Intrinsically Safe (IS) and Explosion Proof, and meets NEC/CEC Class/Division, ATEX Directive 94/9/EC Zone for safety in Division 2 and Zone 2 Operator Control and Monitoring Applications.



Intrinsically Safe Rugged Monitors Help Refineries Meet Increasing Regulatory Compliance

The Dangerous Substances and Explosive Atmospheres Regulations 2002 (DSEAR) and Occupational Safety & Health Administration (OSHA) are concerned with protection against risks from fire, explosion and similar events arising from dangerous substances used or present in the workplace. They set minimum requirements for the protection of workers from fire and explosion risks related to dangerous substances and potentially explosive atmospheres and require employers to control the risks to the safety of employees and others from fire and explosions. Complying with new and existing government regulations consume resources. Efficiency and productivity are the keys to success for refineries. Advances in digital control and monitoring and intrinsically safe technology from AIS are enabling the Oil & Gas Offshore or Onshore Massive, Drilling Rigs and Platforms, Refiners and Pipeline Transportation to proactively manage these efforts and eliminate expensive measures for additional certifications or environmental approvals.



A Safer Work Environment and Less Controller Fatigue Leads To Higher Operational Productivity

Approved for ISA12.12.01/CSA 213: Non-incendive, Non-sparking, and Hermetical-sealed, IEC/UL/CSA 60079-11: Intrinsic Safety "ic" (Gc), IEC/UL/CSA 60079-15, including many other certifications for fire and explosion protection, AIS hazardous areas industrial monitors and displays ensure the ultimate in safety for transportation of hazardous liquids and gases.  AIS Stainless Steel Monitors and Displays with UL and ATEX certifications for hazardous areas (Class 1 Div 2, Zone 2), with either a local console or a standard remote HMI near the pipeline include these additional key benefits:

• Improved controller/operator safety from remote control and detection of equipment failure

• Minimized exposure of personnel to  potentially hazardous areas through remote monitoring

• Increased productivity and less fatigue resulting from a safer, more efficient work flow



Lowering Total Cost of Ownership and Shortening Time to Market

AIS Rugged Stainless Steel Monitors and Multi Touch Screen Displays for Hazardous Areas are constructed completely with sealed stainless steel type 4/4X, IP 65/66, NEMA 4/4X enclosure with environmental ratings (UL 50 or IEC 529) on the entire monitor including fully sealed I/O ports. The Hazardous Area Monitor supports wide operating temperatures from -20 to 60°C (-4 to 140°F), industrial-grade, high bright LCD flat touch screen panels (with option for sunlight readable LCD displays). AIS Intrinsically Safe and Explosion Proof Industrial Monitors and Displays can be used directly in Class I Division 2, Zone 2 without the need for special measures such as complex and expensive enclosures or additional certification processes.



Key AIS Hazardous Areas HMI Features & Benefits

• UL Listed to Safety Standards: ANSI/ISA 12.12.01, 2012, Nonincendive Industrial Monitor for Use in Class 1, Division 2 Groups A, B, C, D Hazardous (Classified) Locations and CAN/CSA C22.2 No. 213-M1987 for Use in Class 1, Division 2 Hazardous Locations: UL File # E365958

• UL Listed to Safety Standards: UL 60950-1 and CSA C22.2 No. 60950-1-07: UL File # E320439

• CE Ex Marked to Safety Standards: Explosive Atmospheres (ATEX)-Directive 94/9/EC-Complying with the Essential Health and Safety Requirements that relate to the design of Zone 2 Category 3 Industrial Monitor, certified to ATEX Protection Classes- "CE Ex mark" II 3 G Ex nA ic IIA T4

• Compliance with the Essential Health and Safety Requirements has been assured by Compliance with IEC 60079-0, IEC 60079-11, and IEC 60079-15

• 3-Year limited warranty (return-to-depot service): Including all parts and labor costs (1 year), including control board (microprocessor) and labor costs (2nd to 3rd year), and labor costs (full 3 Years), accessories and software excluded



About AIS

Headquartered in Irvine, California, USA, American Industrial Systems, Inc. (AIS) offers in-house electronic and mechanical design, software development, Manufacturing, Production And Quality Control Services. Offering one of the widest ranges of Industrial Computing solutions, AIS solutions are available in a multitude of configurations for Industrial, Oil & Gas, Military and Marine applications. The company is fully committed to empowering, improving and delivering turnkey HMI, monitoring and display solutions for OEM, ODM and end-user customers. AIS is an ISO 9001:2008 certified supplier and manufacturer of rugged computers and displays, and received completion of the International Traffic in Arms Regulations (ITAR) registration from the Directorate of Defense Trade Controls (DDTC). For more information, visit: www.aispro.com, email: sales@aispro.com or contact: 1-888-485-6688.



Media Relations Contact:

American Industrial Systems, Inc.

Santiago Consunji

Business Development and Marketing Manager

949-681-7463

santiago.consunji@aispro.com

More from Electrical Equipment & Systems