Industrial Linear Stages increase performance via feature set.
Press Release Summary: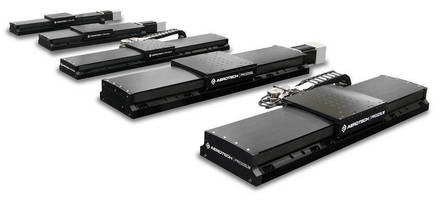 Available in cleanroom prepared and vacuum versions, PRO-LM linear motor stages and PRO-SL/SLE ball-screw linear stages employ recirculating linear guide bearing system and low-friction sealing solution for extended life in industrial applications. Design provides protection from debris, while ThermoComp™ embedded temperature compensation unit ensures accurate positioning in variable temperature environments and during extended use of ball-screw-driven stages.
---
Original Press Release:

Redesigned Linear Stages Improve Your Process by Up to 98%



Up to 98% improvement in positioning resolution



Up to 46% improvement in positioning repeatability



Up to 40% improvement in geometric error motions



Up to 33% improvement in positioning accuracy



Aerotech's PRO series industrial linear motor and ball-screw positioning stages are now available in new sizes and with new features and significantly improved performance. In addition to the performance and feature improvements, two new sizes were added to the PRO-LM (linear motor) series stage line – the PRO115LM and PRO190LM. New features include a linear encoder option on PRO-SLE ball-screw stages, absolute encoder options on both the linear motor and ball-screw stages, and direct mounting to English and metric optical tables.



Rugged Mechanical Construction

All PRO series stages employ a long-life recirculating linear guide bearing system and a low-friction sealing solution for long life in industrial applications such as laser machining. The PRO series design provides protection from debris while our unique side-seals prevent dirt and particulates from entering the stage. The curved hard-cover prevents excessive debris from collecting on the stage.



The base mounting holes are accessible from the outside of the stage allowing for easy mounting. Standard mounting holes for both English and metric optical tables are present in all travels. The tabletop is available with both English and metric mounting patterns and can be ordered with brush attachments to clear any debris that may collect on the stage hard cover. Tabletops have hole patterns for the direct attachment of Aerotech's ADRS, ACS-LP, ADRT, ACS, and AGR rotary stages making multi-axis system design and implementation quick and easy.



Accurate Positioning with ThermoComp™

All PRO series stages are now available with Aerotech's ThermoComp™ feature, an embedded temperature compensation unit that guarantees accurate positioning not only in variable temperature environments, but during extended use of ball-screw-driven stages. Using ThermoComp™ protects your process even in extreme industrial settings.



PRO-LM Linear Motor Stages

PRO-LM stages are optimized with high-precision, noncontact linear encoders. Incremental and absolute encoders are available as standard options and enable minimum incremental motion down to 5 nm and sub-micrometer repeatability. Optional HALAR factory calibration improves positioning accuracy to ±0.75 ìm. Travels range from 50 to 1500 mm for standard models with speeds to 2 m/s.



Aerotech's high-power U-channel linear motors drive the PRO-LM series. The ironless forcer coil provides high force with zero cogging for super-smooth velocity and position control. This ironless design is ideal for applications requiring outstanding contour accuracy and smooth velocity profiling. The linear motor has zero backlash, no windup, zero friction, and excellent dynamic responsiveness.



PRO-SL/SLE Ball-Screw Linear Stages

Enhanced positioning specifications coupled with competitive pricing make the PRO-SL/SLE ball-screw stage series the ideal choice for both medium and high-performance applications. For applications requiring direct-metrology of the output carriage, the PRO-SLE integrates a direct linear encoder. Amplified sine, digital TTL output, and absolute encoders are available as standard options for linear feedback.



The PRO-SL/SLE series is designed with many standard features and options that make the design incredibly flexible and allow it to be easily tailored to a specific application. Travels range from 50 mm to 1000 mm with speeds up to 300 mm/s. Aerotech BM or BMS series brushless servomotors are available with a variety of encoder options. Minimum incremental motion is to 50 nm. A holding brake can be added to the motor for vertical applications. A motor foldback kit is available for space-constrained applications to reduce the overall stage length.



All PRO series stages are available in cleanroom prepared and vacuum versions.



For further information, please contact Steve McLane at 412-967-6854 (direct), or via e-mail at smclane@aerotech.com. In addition, PRO series data is available at https://www.aerotech.com/product-catalog/stages/linear-stage.aspx