Industrial Laser Marking System features air-cooled design.
Press Release Summary: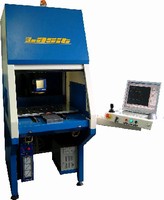 Suitable for marking metals, plastics, and many organic materials, multi-axis CompactMark® features fully enclosed, rigid welded steel body for repeatable positioning and precise marking. Motors are servo driven with 2,048 lines per revolution and integrated encoder, which prevents marking parts in wrong position. System features 19 x 15 in. pallet for marking multiple parts, and automatic Z axis that allows for height clearance up to 15¾ in.
---
Original Press Release:

Next Generation CompactMark®: Multi-Axis Laser Marking System (Standard or Custom)



Lasit, USA Presents Next Generation CompactMark®: Multi-Axis Laser Marking System (Standard or Custom)

Branford, CT - December 11, 2007 - Lasit, USA proudly introduces its newest generation CompactMark®, a multi-axis rugged, industrial laser marking system with a wide range of features offering versatility and capability.

The fully enclosed rigid welded steel Class One system with pneumatic doors (or optional Class IV with open door) is ideal for marking metals, plastics and many organic materials, and is fully air cooled, eliminating the need and cost for water chilling.

The XYZ control is optimized through the use of a smooth joystick. Together with the flexible preview features and the SmartFocus®, the system is designed for ease of use in positioning various single parts. The system boasts a full 19 x 15 inch pallet that provides optimal throughput when marking multiple parts. Custom large sizes are also available. The automatic z axis allows for height clearance up to 15 ¾ inches. The system can be customized with 5 axes and additional features including W Axis, Pick and Place, Palletized Shuttles, Conveyors, and Pneumatic Lifts as well as an expanded work are for increasing productivity to mark large trays or pallets of parts.

When cylindrical marks are required, this system provides the most flexibility in the industry. The CompactMark® can be equipped with an optional fully automatic W axis (rotary indexer) to minimize any downtime in changing over from the table to the rotary indexer.

Software provides for marking alpha-numeric text, bar codes, data matrix, graphics, logos, serialization as well as on the fly processing with encoder feedback. Materials such as Steel, Aluminum, Titanium, Annodized Aluminum and other coated metals and as well as plastics can be marked with our fiber systems.

The rigid welded steel body provides precision machining, which allows repeatable positioning as well as precise marking when using additional fixtures to support the parts. The motors are all servo driven with 2048 lines per revolution and an integrated encoder, which prevents marking the parts in the wrong position.

Lasit, USA offers the CompactMark with a full range of lasers:
o 20, 30, 50, 100, 200 Watt FiberFly - under 30 watts -completely air cooled, no consumables, high reliability, high definition marking or deep engraving with a fully unconditional warranty
o FlyAir 10 Watt Vanadate - completely air cooled, an advanced end pumped vanadate laser with very short pulse duration for precision marking of fine details, even with very delicate surfaces. Fully modular, easy plug-and-play changeover in replacing diodes with no technical intervention. Life expectancy is over 15,000 hours.
o Fly 50 or 70 Watts - Water cooled, side pumped Nd:Yag with quality beam resulting in larger spot size ideal for annealing and larger marks. Enhanced reliability.
o C02: 10- 30 Watts - Air cooled. High quality Gaussian beam profile, high reliability.
o Green - ideal for marking on substrates that require greater contrast than Fiber or Vanadate such as certain plastics and rubbers.

About Lasit USA
Lasit USA has produced lasers and laser marking systems since 1990. A subsidiary of the El.En Group based in Italy, Lasit USA focuses on continuously improving laser marking for industries such as aerospace, automotive, medical, electronic and tooling.

Contact
Robin Barbero
VP Sales and Marketing
(508) 528-2542
Robin.barbero@lasitusa.com
www.LasitUSA.com

More from Test & Measurement