Industrial Gearboxes deliver torques up to 2,196,000 in-lb.
Press Release Summary: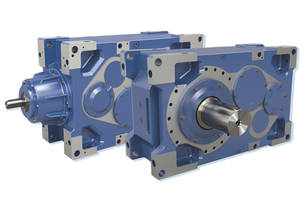 Industrial Gearboxes are compatible with industrial motors and drive electronics. Suitable for conveying systems, mixers and agitators applications, units are offered in 133,000 and 177,000 in-lb nominal torque models. Products can be configured with auxiliary drives, brakes, torque arms, backstops, swing bases and extruder flanges. Gearboxes come in gear ratios from 5.54:1 up to 30,000:1 with two, three or four gear stages and are available as parallel shaft or right-angle design.
---
Original Press Release:
NORD, Going to the MAXX
NORD DRIVESYSTEMS' family of MAXXDRIVE modular industrial gear units now available in additional sizes
If you need a dependable, high performance gearbox able to handle the most demanding bulk material handling applications, cement and steel processing, wastewater management and many more, look no further than the MAXXDRIVETM system, a flexible yet durable high-torque series of industrial gearboxes from NORD DRIVESYSTEMS. When combined with NORD's industrial motors and drive electronics, MAXXDRIVE provides a complete solution for conveying systems, mixers, agitators, and similar heavy duty applications, offering output torques up to 2,196,000 in-lb.
The good news? The already successful gear drive family has just become a little bigger. NORD DRIVESYSTEMS recently added two new sizes to the MAXXDRIVE line. The new 133,000 & 177,000 in-lb nominal torque units are a well-received addition to the now 11-member family, complementing the larger units and promising even greater flexibility to system designers.
The entire MAXXDRIVE line-including the two newcomers-is modular, and can be configured with a wide array of application-specific options including auxiliary drives, brakes, torque arms, backstops, swing bases, and even extruder flanges. The single-piece UNICASE housing provides mounting options on all six sides. All bearings and seals are contained within a single casting, with none of the housing splits and bolt-on carriers that plague competitive systems. Use of a one-piece UNICASE housing also provides high rigidity, more accurate shaft alignment and higher load-bearing capacity. The result is quiet operation, exceptional component life, and high reliability.
Gear ratios across the line are available in fine increments from 5.54:1 up to 30,000:1, with two, three, or four gear stages as well as an auxiliary reduction gear stage if needed. A number of sealing options are available, as well as a full complement of input and output shaft options. The units are available as either parallel shaft, or right-angle design using a spiral bevel input. Remote monitoring and temperature management solutions are also available.
Put it all together and the expanded MAXXDRIVE gear family offers excellent longevity, very high power density, and high overload capacities for virtually any industrial need. The MAXXDRIVE is quite simply designed for dependability. With these two additions, the system presents designers and plant engineers with even more options for success. Feel free to contact NORD for help or to answer any questions about configuring the best MAXXDRIVE solution for your application.
Company background
A developer and manufacturer of drive technology; NORD DRIVESYSTEMS is one of the world's leading suppliers of full-scale, comprehensive drive solutions. Founded in 1965, the company has grown to include over 36 assembly centers worldwide, sales and support is available in 60+ countries and includes over 3.400 employees. This ensures short delivery times and services close to you. NORD's wide variety of gear type's cover torques from 90 lb-in. to 2,215,000 lb-in. and more. The company also manufactures motors delivering outputs from .16Hp to 1341hp, and power electronics ranging from frequency inverters to servo controllers.
Contacts:
ALMOGHRABI Hani
CHANDLER James
 WUBBOLDING James
800 NORD Drive
PO Box 367
53597 WI Waunakee
Phone : 608 849 - 7300
Fax : (800) 373 - 6673
Getriebebau NORD GmbH & Co. KG
Getriebebau-Nord-Straße 1
22941 Bargteheide/Hamburg
Germany
NIERMANN Jörg
Phone : +49 45 32 / 2 89 -0
Fax : +49 45 32 / 2 89 -22 53
More from Optics & Photonics