Industrial Gas Turbines offer power upgrade.
Press Release Summary: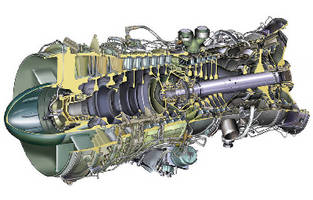 Engineered as modular package, RB211-Gzero retrofit upgrade product will benefit operators of RB211-C and RB211-G variant gas generators that feature RT-56 or RT-62 power turbines. Package increases flow of air through engine, thereby increasing power availability at ISO conditions by 10% for RB211-G, and up to 31% for RB211-C, depending on existing configuration. Available in power range of 29–44 MW, RB211 gas turbines are suited for onshore/offshore oil and gas and power generation applications.
---
Original Press Release:

Rolls-Royce Launches Rb211-Gzero Power Upgrade for Industrial Gas Turbines



Rolls-Royce, the global power systems company, has today launched RB211-Gzero, a retrofit upgrade product that provides many existing users of industrial RB211 aeroderivative gas turbine engines with a nominal power increase of ten per cent depending on ambient temperature and engine type.



Scott DeWolfe, Rolls-Royce, RB211 Product Director – Energy, said: "The RB211 is the most reliable and easily maintained industrial gas turbine available in its class today. The new RB211-Gzero delivers an additional ten per cent more power that will be critical to boosting performance and profitability for our customers in the global power generation and oil gas sectors."



Engineered as a modular package for ease of maintenance, the RB211-Gzero product will specifically benefit operators of the 440-plus worldwide installed fleet of RB211-C and RB211–G variant gas generators that feature RT-56 or RT-62 power turbines.



The RB211-Gzero power increase is achieved during routine gas turbine overhaul by retrofitting applicable RB211 units with a modular package that increases the flow of air through the engine, thereby increasing power availability at ISO conditions by 10 per cent for the RB211-G, and up to 31 percent for the RB211-C, depending on existing package configuration. This simple retrofit approach requires minimal modification to the existing gas turbine and also ensures that oil & gas production and power generation facility down-time is kept to a minimum.



With over 700 units sold, recording over 30 million operating hours, the industrial RB211 gas turbine is available in a power range of 29 to 44 megawatts (MW) and provides an ideal solution for onshore and offshore oil & gas and power generation applications.



The RB211-Gzero product was announced at the 2012 Turbomachinery Symposium taking place in Houston, Texas, USA.



Notes to Editors:



1. Rolls-Royce is a world-leading provider of power systems and services for use on land, at sea and in the air, and has established a strong position in global markets - civil aerospace, defence aerospace, marine and energy.

2. As a result of this strategy, Rolls-Royce has a broad customer base comprising more than 500 airlines, 4,000 corporate and utility aircraft and helicopter operators, 160 armed forces, more than 4,000 marine customers, including 70 navies, and energy customers in more than 80 countries.

3. Annual underlying revenue was £11.3 billion in 2011, of which more than half came from the provision of services. The firm and announced order book stood at £60.1 billion at 30 June 2012, providing visibility of future levels of activity.

4. Rolls-Royce employs over 40,000 people in offices, manufacturing and service facilities in over 50 countries. Over 11,000 of these employees are engineers.

5. In 2011, Rolls-Royce invested £908 million on research and development, two thirds of which had the objective of further improving the environmental performance of its products, in particular reducing emissions.

6. Rolls-Royce supports a global network of 28 University Technology Centres, which connect the company's engineers with the forefront of scientific research.

7. The Group has a strong commitment to apprentice and graduate recruitment and to further developing employee skills.



For further information, please contact:

Nigel O'Connor

Director of Communications – Energy

Rolls-Royce plc

T: +44 (0)20 7227 9156 M: +44 (0) 7768 486 836

E: Nigel.O'Connor@Rolls-Royce.com

www.rolls-royce.com

More from Communication Systems & Equipment