Industrial Fluid Reservoirs offer maximum fluid visibility.
Press Release Summary: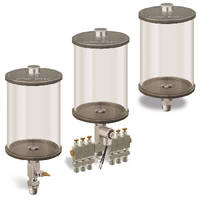 Designed with molded polycarbonate endplates, Clear View Reservoirs eliminate need for gaskets and center post to tie together top and bottom plates, maximizing fluid visibility. Swivel fill cap keeps cap attached but out of way during filling. Available in multiple outlet configurations and in remote or pipe mounting designs, reservoirs come in Pyrex or acrylic with capacities of 2 ½ oz, 5 oz, 9 oz, 1 pint, 1 quart, and ½ gal. Acrylic models are also available in 1 gal capacity.
---
Original Press Release:

"Cost Savings with Oil Reservoir Design"



Manitowoc, WI -- Oil-Rite Corporation has redesigned industrial fluid reservoirs with a lightweight, economical, and durable construction. Clear View reservoirs allow maximum fluid visibility by eliminating the center post common to many lubricators. The contemporary design features molded polycarbonate endplates.



Industrial fluid reservoirs often utilize castings or stamped steel plates as part of their construction.  While these materials perform well in industrial conditions, they are major contributors to the weight and cost of the item.  They can also appear somewhat bulky in comparison to the clean lines of the modern equipment on which they are installed. Clear View reservoirs utilize polycarbonate endplates with a slim profile.  The material has broad compatibility for use with many types of fluids in diverse industrial environments.  It is not subject to rust or oxidation and is easily cleaned.  The reduction in weight contributes to a more stable installation, while reducing the net cost of the product through lower freight expense.



The reservoir utilizes fewer components by eliminating the need for gaskets and a center post to tie together the top and bottom plates.  The swivel fill cap is a new feature that keeps the cap attached but out of the way during filling.  The Clear View design takes into account customers' request for an updated appearance and improved handling.



Oil-Rite offers Clear View reservoirs and gravity lubricators in a variety of styles.  Pyrex (glass) or acrylic reservoirs are available in 2 ½ ounce, 5 ounce, 9 ounce, 1 pint, 1 quart, and ½ gallon capacities.  Acrylic reservoirs are also available in a 1 gallon capacity.  Product lines include single and multiple feed electro oilers, single and multiple feed manual oilers, full flow electro and manual oilers, and classic reservoirs.  Multiple outlet configurations are available, in remote or pipe mounting designs.



Oil-Rite Corporation has been designing and manufacturing lubrication equipment in its U.S. plant since 1933.  For more information, contact Technical Sales at 920-682-6173 or consult www.oilrite.com.



For more information, please contact:

Oil-Rite Corporation

4325 Clipper Drive

P.O. Box 1207

Manitowoc, WI  54221-1207

Telephone: 920-682-6173   Fax: 920-682-7699

Email: sales@oilrite.com

www.oilrite.com